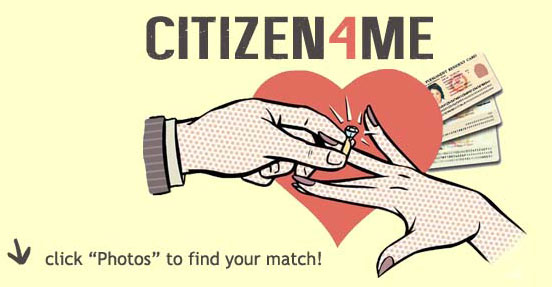 Citizen4Me: Where DREAMers Can Find U.S. Citizens to Marry is a cross-post from VOXXI by Griselda Nevarez.
Are you a DREAMer looking to marry a U.S. citizen who will petition for you to become a citizen? The Facebook group Citizen4Me is the perfect place to start.
The group lists profiles of eligible bachelors and bachelorettes who are U.S. citizens and are willing to marry DREAMers to help them fix their immigration status. It also lists profiles of DREAMers who are seeking a U.S. citizen to marry.
Sounds like a hoax? Well, it is, but the Facebook group does exist.
Citizen4Me was created Tuesday morning by several DREAMers who were appalled by comments Sen. Jon Kyl (R-Ariz.) made when he and Sen. Kay Bailey Hutchison (R-Texas) introduced the Achieve Act, legislation that would give DREAMers a legal status.
Kyl said during a press conference Tuesday that even though the Achieve Act doesn't include a pathway to citizenship for undocumented youth, there are other routes through which they can apply for citizenship, including marrying a U.S. citizen.
"Realistically, young people frequently get married. In this country, the biggest marriage pool are U.S. citizens," Kyl told reporters. "A U.S. citizen can petition for a spouse to become a citizen in a very short time—around a year—so I don't think it's any big secret that a lot of people who might participate in this program are going to have a very quick path to citizenship, if that's the path that they choose."
Citizen4Me Facebook Group Is Meant to Be Satire
Astrid Silva, a DREAMer from Nevada, told VOXXI she and several other DREAMers created the Facebook group in response to Kyl's comments. She said the group is meant to be "very sarcastic and very funny."
"A lot of us think Sen. Kyl's comments are really out of touch with reality, and people are starting to see how silly his idea really is," she told VOXXI.
Silva noted that getting married for the sole purpose of obtaining citizenship is a federal felony. She also said not everyone qualifies for that route to citizenship. Same-sex couples, for example, can't help their partner obtain citizenship through marriage. Also, those who entered the country illegally often cannot obtain citizenship even if they marry a U.S. citizen.
Members of the Citizen4Me Facebook group agree with Silva and have been inviting others to join the group. In just one night, the group gained 1,000 members. As of Wednesday afternoon, it had about 1,500 members.
"I didn't think it would be more than five people, but it has grown so fast," Silva told VOXXI about Citizen4Me.
She added that at the end of the day, the group is meant to be a stress reliever for DREAMers.
"Sometimes we get a little stressed out and only see the negative side to our situation, but it's good to have a good laugh about it once in a while and not stress about it as much," she said.
Read more: http://www.voxxi.com/citizen4me-dreamers-citizens-marry/#ixzz2DcXopADE.