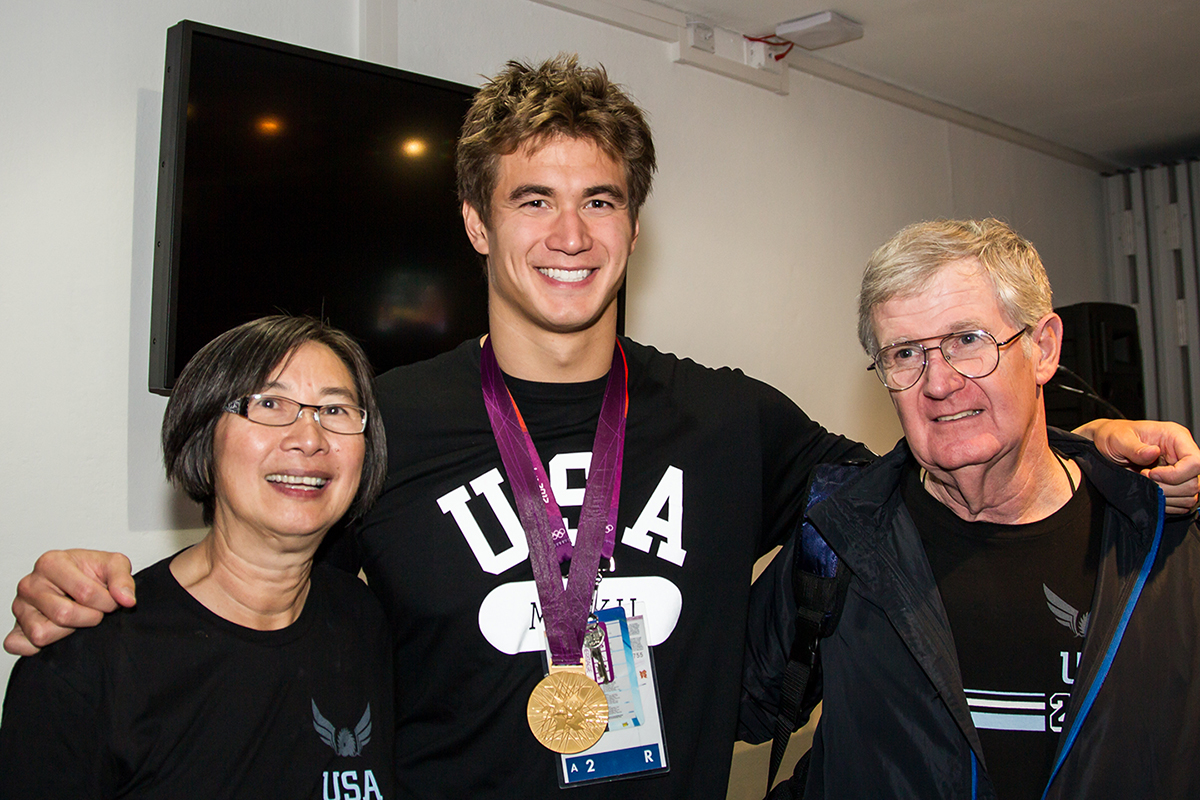 It was the sixth day of the London Olympic Games and Jim and Cecilia Adrian still hadn't seen their son Nathan for whom they traveled 4,800 miles to watch swim for the United States. Nathan, 23, was competing in his second Olympics. Nathan and his mom were exchanging text messages, but the two hadn't spoken in-person in days. While waiting to watch the 100-meter freestyle race on Aug. 1, the Adrians chatted with some Australian spectators who were on their way to see a water polo match in the Olympic Park.
"They wished Nathan good luck," says Jim. "But not enough to come in first…at that point, everyone was predicting [James] Magnussen would win."
Australian swimmer and gold-medal favorite, James "The Missile" Magnussen was expected to win the 100-meter free easily. Few people were talking about Adrian, who would swim next to Magnussen in Lane 5.
That was all about to change.
A "fingertip" was all it took to dethrone the Missile.
In a dramatic, heart-racing sprint, Nathan, of Bremerton, Wash., took home his first individual gold medal in the 100-meter freestyle swim, beating Magnussen by one-hundredth of a second.
"It's not who swims the fastest time this year," said Adrian. "It's who can get their hands on the wall first here tonight."
Adrian also received a silver medal as the lead off swimmer for the 4×100-meter freestyle relay team and a gold medal as the anchor for the medley relay team in Michael Phelps' final swim.
The swimmer's work ethic can be traced to his upbringing in a union family. Adrian's father, Jim, is a retired nuclear engineer for the Puget Sound Naval Shipyard and former president of the International Federation of Professional and Technical Engineers (IFPTE) Local 12. Jim was a 24-year member of IFPTE and was Local 12 president for five years in the 1990s. His mother, Cecilia, is a nurse in the Bremerton school district. Jim's grandfather, Joe Norton, was a member of Electrical Workers (IBEW) in Indianapolis and was influential in setting up the apprenticeship programs.
IFPTE applauds Nathan's victories:
IFPTE is elated about Nathan's accomplishments in the Olympics. The entire world watched as this young man continued a legacy of athletic excellence catapulting him to the top of this sport. Nathan's success speaks directly to the character and work ethic that comes along with growing up in a union family. His father, Jim, was a dedicated leader of IFPTE Local 12 and continues to be involved in union issues. IFPTE applauds Nathan's commitment to success.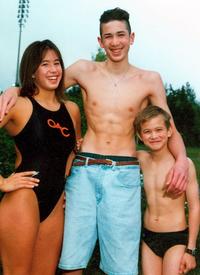 Nathan got his start as a swimmer when he was a toddler. There was never a time growing up Nathan didn't see a swimming pool, says Jim, who used to take Nathan as an infant to watch his older siblings, Donella and Justin, compete in swim meets. Both Donella and Justin received athletic scholarships to swim in Division I programs. Donella attended Arizona State University and finished her degree at the University of Puget Sound. Justin attended the University of Washington.
Growing up, Nathan and his siblings were encouraged by Cecilia and Jim to excel in school and sports and to stick with whatever goals they made.
Jim says of his children:
They had a very good foundation….Once they make the commitment, there was no choice about changing their minds or slacking off. There were some interesting disputes on that…but the whole philosophy served them well.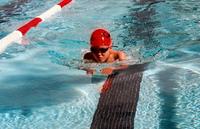 Cecilia points to an example from Nathan's childhood when he didn't let an injury get in the way of schoolwork. Nathan dislocated his pinky finger playing goalie in gym class when he was in middle school. As his school nurse, Cecilia saw Nathan first but immediately sent him on to the emergency room. He was back in his afternoon classes two hours later.
"He was the only kid who in the school district who wouldn't take the afternoon off after going to the doctor," says Jim. "He thought, 'My brain is still good, why waste time at home?'"
Although Nathan received an athletic scholarship to swim at the University of California, Berkeley, it wasn't until he was 19 that Jim and Cecilia realized Nathan would compete on an Olympic level. Nathan decided to take a year off from college after his freshman year to train with his coach in an elite, yearlong sports camp in Florida for 15 swimmers from around the world.
"I didn't quite understand it at first," says Cecilia. "But we supported him the whole way."
Now a graduate of Berkeley and a gold medalist, Nathan will travel around the United States and the world for the next several years promoting the sport of swimming and competing on an international level for the U.S. national team. Besides competition, Adrian will do community service, introducing inner-city children to swimming competitions and training through the USA Swimming Foundation.
For now, the Adrians are still processing the "surreal" experience of attending the Olympics and seeing their son take home the gold.
Right after Nathan won the gold, he couldn't talk to his parents in person, but he was still able to sneak his mom a quick hug and his bouquet.
Cecilia says:
When he first came out on the podium, Nathan spotted me and blew me a kiss…after the ceremony he jumped up seven steps onto the bleachers and hugged me through the barrier. He gave me the bouquet.
After a small battle with customs, Cecilia was able to bring home the bouquet Nathan gave her after the medal ceremony. It's hanging to dry in their Bremerton home.
"It still doesn't feel real..." Cecilia says. "The whole Olympics environment was like a dream."
Follow Nathan's updates on Twitter (@Nathangadrian) or on the USA Swimming website here.