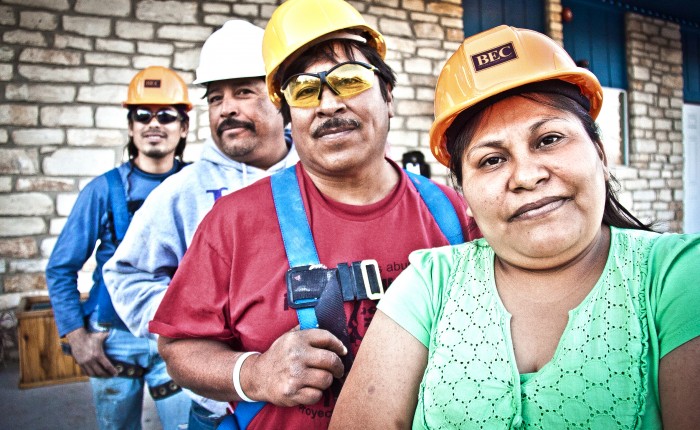 There are 11 million aspiring citizens who love this country and call it home. Like immigrants before them, they came to this country for freedom and the opportunity to provide a better life for their children.
These immigrant families work hard, pay their taxes and contribute to their communities. But because of a broken and punitive immigration process that tears families from each other, there really is no "line" these aspiring citizens can get into to adjust their status and start down the pathway to citizenship.
The AFL-CIO and America's union movement, along with a broad coalition of other groups, is mounting a new campaign to build a common-sense immigration process that includes a road map to citizenship and one that guarantees immigrant workers the same workplace rights and protections all workers deserve.
We know that immigration reform can be a controversial issue among our union members and all workers. But immigration reform with a path to citizenship and workplace rights doesn't just benefit aspiring citizens and their families, it's good for all workers. Here are 10 reasons why.
As the immigration campaign continues, we will examine other key immigration issues.
1. The entire U.S. economy will grow.
The Congressional Budget Office (CBO) estimates that immigration reform with a path to citizenship would generate an additional $1.5 trillion to the economy over 10 years.
2. Wages will rise for both immigrant and native workers.
In "Immigration for Shared Prosperity," former Secretary of Labor Ray Marshall writes that studies show immigration reform with a path to citizenship can raise wages for immigrant workers by 6%. Also the study "Raising the Floor for American Workers" reports that under a path to citizenship, "The wage floor rises for all workers—particularly in industries where large numbers of easily exploited low-wage [undocumented] immigrants currently work."
3. More jobs will be created.
The higher earning power of aspiring citizens in just the first three years of comprehensive immigration reform with a path to citizenship would generate up to $36 billion in net personal income and enough consumer spending to support 750,000 to 900,000 jobs, according to the study "Raising the Floor for American Workers."
4. Added tax revenues from new jobs and higher wages will help local communities and states maintain and improve public services, including education.
The Immigration Policy Center (IPC) says that immigration reform with a path to citizenship "would generate billions of dollars in additional tax revenue as their [aspiring citizens'] wages and tax contributions increase over time."
5. The billions of dollars a year in wage theft for both aspiring citizens and native workers will be significantly reduced.
In New York, Los Angeles and Chicago alone, low-wage workers in immigrant-dense industries lose about $56 million a week in wage theft, according to the study Broken Laws, Unprotected Workers, which notes that the abuses are not limited to undocumented workers. "The best inoculation against workplace violations [wage theft] is ensuring workers know their rights and have full status under the law to assert them."
6. Workers' rights—including the right to join a union—will be strengthened.
Today, writes Marshall, unscrupulous employers threaten workers with retaliation, "when workers attempt to organize a union, file wage claims or exercise other workplace rights." Immigration reform with a path to citizenship that guarantees workplace rights for aspiring citizens will lessen the threat of employer retaliation and allow workers to defend their rights.
7. Workplaces will become safer.
Researchers at the UCLA-Labor Occupational Safety and Health Program, found that 90% of the immigrant workers they interviewed feared getting hurt on the job and that a majority of the workers experienced a work-related injury or illness, but only two-thirds had reported these injuries or illnesses to their employers. Immigration reform that includes a path to citizenship and guarantees workplace rights will remove the fear of employer retaliation aspiring citizens face if they report workplace violations.
8. "High Road" employers who obey the law and treat workers with respect will no longer be at a competitive disadvantage.
Businesses that today compete with unscrupulous employers who rely on the exploitation of the undocumented to turn a profit will be on a more equal footing when aspiring citizens can exercise their workplace rights and no longer fear reprisals from low-end employers.
9. Some of America's best and brightest students—the sons and daughters of undocumented workers—will have the opportunity to realize dreams and contribute to all of us as teachers, doctors, lawyers, scientists and soldiers.
Immigration reform that incorporates the DREAM Act initiative and puts young immigrant students who were brought to this country by their parents, raised in our neighborhoods and educated in our schools on a path to citizenship, will help put some of the best and the brightest young workers into our labor force.
10. It's the right thing to do.
"The current immigration policy breaks up families, stifles opportunities for new American immigrants and allows low-end employers to take advantage of workers and pursue a race to the bottom in wages and labor standards....Members of our unions, like the rest of the American public, strongly support inclusive reform that reflects our shared values: dignity, fairness, opportunity, voice and justice," said AFL-CIO President Richard Trumka.