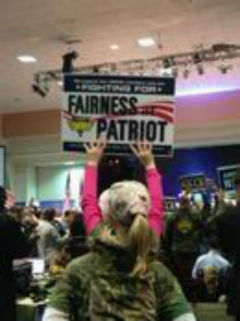 After nearly a year of protests, rallies, marches and court battles demanding "Fairness at Patriot," a settlement has been reached that will help cover future health care benefits for the retired coal miners affected by the bankruptcy of Patriot Coal.
The Mine Workers (UMWA) yesterday announced that it had reached a global settlement with Peabody Energy and Patriot that will provide more than $400 million to fund retiree health care costs through the Patriot Retirees Voluntary Employee Benefit Association (VEBA). Peabody will pay $310 million over four years while Patriot will provide the remainder through payments and production-based royalties.
UMWA President Cecil E. Roberts said:
This is a significant amount of money that will help maintain health care for thousands of retirees who earned those benefits though years of labor in America's coal mines. This settlement will also help Patriot emerge from bankruptcy and continue to provide jobs for our members and thousands of others in West Virginia and Kentucky.
Patriot Coal was spun off from Peabody in 2007, and Peabody transferred the health care and other obligations of the former Peabody miners and retirees to Patriot. Patriot filed for bankruptcy in July 2012. In August, the UMWA reached a settlement with Patriot that restored many of the wage and benefit cuts Patriot instituted as part of its bankruptcy proceedings.
As part of the recent settlement, the union agreed to halt its months-long public relations and direct action effort related to Peabody in St. Louis and elsewhere regarding the effects of the Patriot Coal bankruptcy. Miners and their allies had held several huge marches and rallies at Peabody's St. Louis headquarters and elsewhere.
Several thousand of Patriot retirees worked for Magnum Coal, a subsidiary of Arch Coal that Patriot acquired in 2008. Arch Coal, like Peabody, was accused of ducking its health care and other obligations of those miners by transferring them to the subsidiary. Arch Coal has yet to settle with the union, and Roberts said:
Arch still can step up and meet its obligation to these retirees. We will continue to encourage them to do so in the coming days.
Roberts said while the settlement with Peabody and Patriot is significant, it does not provide the level of funding needed to maintain health care for these retirees forever.
That is why we are continuing our efforts to pass bipartisan legislation in Congress that will put these retirees under the Coal Act, meaning their long-term health care benefits would be secured at no additional cost to taxpayers.
H.R. 2918, introduced by Rep. David McKinley (R-W.Va.), has 24 co-sponsors from both parties; and S. 468, introduced in the Senate by Sen. Jay Rockefeller (D-W.Va.), has six co-sponsors.