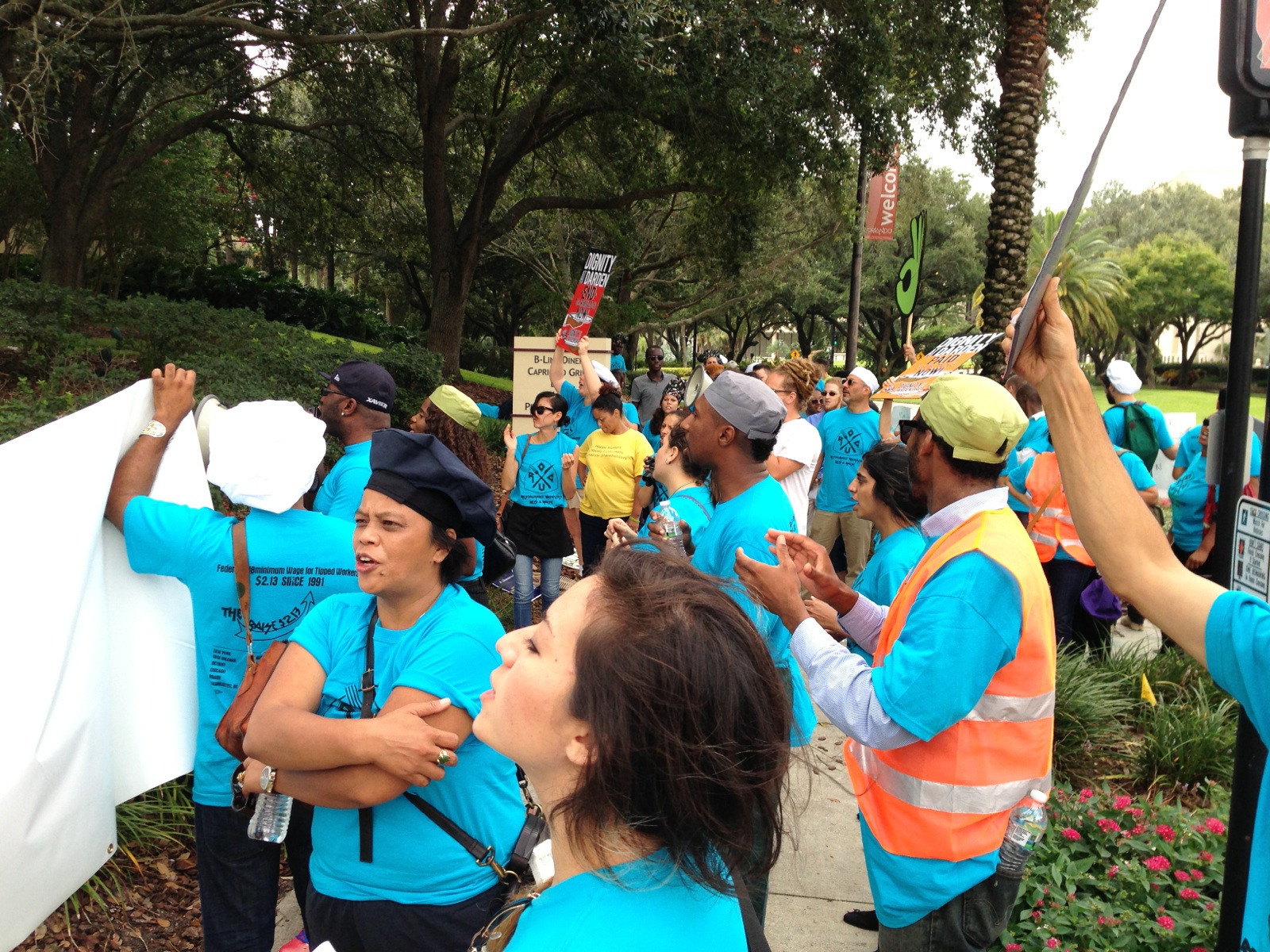 Darden Restaurants Inc., the company whose 28,000 workers serve at Red Lobster, Olive Garden and the upscale Capital Grille restaurants, found itself on the defensive in September, as CEO Clarence Otis tried to explain to shareholders why year after year earnings per share dropped and restaurant servers labored under a $2.13 per hour federal "tipped" minimum wage, with no paid sick leave.
Otis told shareholders at Darden's annual meeting in the luxury Peabody Orlando hotel that the reason for the drop in earnings is many of Darden's customers were "financially stretched" and Obamacare is now threatening higher operating costs.
Amid rising complaints of racial discrimination in the restaurant industry, Restaurant Opportunities Centers (ROC) United member, Tara Anne O'Shea, who worked for two years as a server at an Olive Garden restaurant in the Chicago area, asked Otis and Darden's Board of Directors to implement the AFL-CIO's shareholder proposal, under which Darden would disclose its spending lobbying, including groups like the American Legislative Exchange Council. She said Darden should disclose its annual report to the federal Equal Employment Opportunity Commission.
"We want Darden to be bold and successful. We want Darden to take on the issue of discrimination and eradicate it."
Angela Williamson and Johnathan LaFavor of United Food and Commercial Workers (UFCW) asked Otis why Darden kept Walmart's executive vice president on the board, while the world's biggest retailer faced one-day strikes and growing complaints from its workers about low pay and discrimination.
"Bill Simon has been re-elected to our board with more votes than any other director," said Otis, "and Walmart has the same customer base we do."
When asked why he personally lobbied against raising the tipped minimum wage from $2.13 per hour, Otis said, "That's a red herring. No Darden worker makes $2.13 an hour. If we supported a higher [tipped minimum wage], it "would only fuel additional tension and arguably would be unfair to the non-tipped employees."
As he left the meeting amid heavy security, Lauren Jacobs, ROC's shareholder leader, asked Otis to meet with ROC and Darden workers to resolve their concerns. Otis, who during the meeting, repeatedly cited Fortune's annual recognition of Darden as a "Great Place to Work," quickly walked away without answering Jacobs' question.
Outside the hotel, some 50 ROC members, cheered O'Shea, Jacobs and ROC Co-Director Fekkak Mamdouh as they reported on the meeting. "We'll be back!" "Two thirteen is not enough!" they shouted.