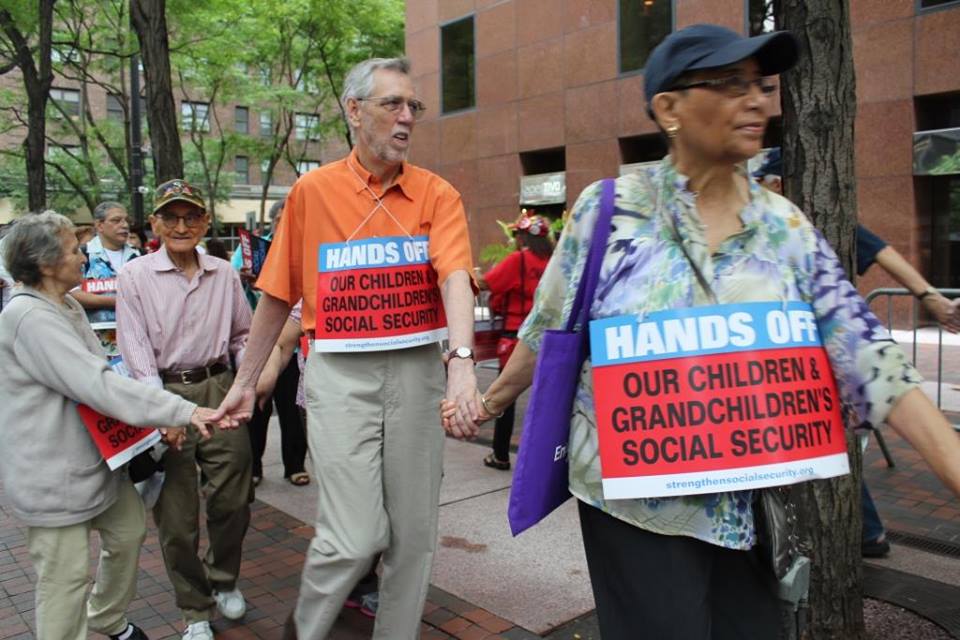 Next year, the millions of Social Security recipients will see the smallest cost-of-living adjustment ever—just 1.5% or about $19 a month. If the politicians—and their billionaire friends who don't want to pay the same taxes workers do—who are pressing hard for the "chained" CPI benefit cut had their way, the adjustment would be even smaller than 2014's historic low.
Edward F. Coyle, executive director of the Alliance for Retired Americans, says, "I hope this news about next year's Social Security COLA will cause politicians in Washington to reconsider their support for the 'chained' CPI."
How can anyone look at an increase of around 1.5% and think 'That's too big?' Clearly, these politicians need to spend more time talking to seniors who are struggling. Next year's increase will be 1.5%. Imagine if it were even less. Then imagine if that smaller increase were to be compounded over time. That is the 'chained' CPI.
The "chained" CPI proposal would reduce cost-of-living adjustments for Social Security and prevent benefits from keeping up with inflation. At age 75, a senior's benefits would be cut by about $650 per year (on average). At age 85, those benefits would be cut by about $1,150 per year, and at age 95, by about $1,600 per year. For more on what the "chained" CPI would do, go to the Alliance "chained" CPI fact sheet.
Earlier this month, 51 Republican members of the House, led by Rep. Reid Ribble (R-Wis.) signed a letter to Speaker John Boehner supporting COLA cuts, among other unspecified proposed Social Security benefit cuts, as part of the ransom demand to lift the debt ceiling.
On the other hand, Sen. Tom Harkin (D-Iowa) and Rep. Linda Sánchez (D-Calif.) have introduced the Strengthening Social Security Act (S. 567 and H.R. 3118). The legislation would measure inflation not with the "chained" CPI, but with a more accurate measure of inflation for seniors (the CPI-E). It also would improve Social Security's solvency by lifting the cap on earnings subject to the Social Security tax, so that all of America's workers pay the same rate.
AFL-CIO Policy Director and Special Counsel Damon Silvers recently told Salon that the AFL-CIO opposes any benefit cuts to Social Security, Medicare and Medicaid.
The labor movement is going to fight to the death to stop cuts to Social Security and Medicare and Medicaid. Not 'unreasonable cuts.' Not 'cuts without tax increases.' Cuts period. We're against all of them, we will fight them ferociously, and we will give no cover to any Democrat who supports them
Watch a video clip of Silvers (below):