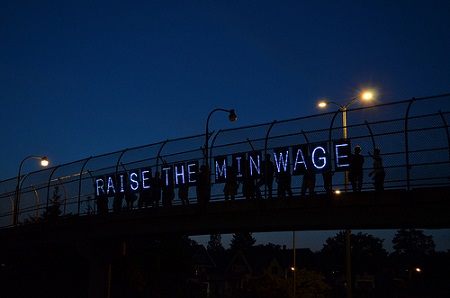 Sure, working families have been under attack for years, but people across the country are rolling up their sleeves and fighting back to protect workers' rights and raise living standards for everyone. Here are 10 ways they're doing it:
1. Increasing the Minimum Wage
Four states (California, Connecticut, New York and Rhode Island) have increased their state minimum wage in 2013, and on Nov. 5, New Jersey voters will vote on a ballot measure to increase their minimum wage.
2. Passing "Buy America" Laws
Three states (Colorado, Maryland and Texas) passed laws in 2013 to ensure that the goods procured with public funding are made in the United States.
3. Ensuring Paid Sick Days
Portland, Ore., Jersey City, N.J., and New York City became the latest three cities to adopt standards for paid sick days in 2013.
4. Protecting Immigrant Workers
In 2013, six states (California, Colorado, Indiana, Maryland, Oregon and Vermont) have enacted protections for immigrant workers, including access to driver's licenses and education.
5. Cracking Down on Businesses That Cheat Workers
Texas passed legislation in 2013 to crack down on businesses that cheat employees by treating them as "independent contractors" who lack worker protections (such as minimum wage and overtime protection, and eligibility for unemployment benefits and workers' compensation).
6. Giving Workers the Right to a Voice on the Job
In 2013, some 15,000 home care workers in Minnesota won collective bargaining rights through state legislation, as did 10,000 in Illinois and 7,000 in Vermont. Thousands of other workers around the country have enjoyed organizing wins, too: 7,000 electrical workers, more than 5,000 Texas public school teachers, taxi drivers in New York and other cities, telecom workers, college and university faculty, EMS drivers, hotel and casino workers and domestic workers, to name a few.
7. Protecting Your Privacy on Social Media
Nine states (Arizona, Colorado, Illinois, New Jersey, New Mexico, Nevada, Oregon, Utah and Washington) have passed legislation in 2013 to prohibit employers from requiring access to your social media passwords or information as a condition of employment.
8. Fighting for LGBTQ Equality
Five states (Colorado, Delaware, Minnesota, Rhode Island and Vermont) have passed legislation banning workplace discrimination or recognizing marriage equality.
9. Protecting the Rights of Domestic Workers
Two states (California and Hawaii) have passed legislation in 2013 to protect the rights of domestic workers. California's Domestic Workers' Bill of Rights will benefit about 200,000 domestic workers, and Hawaii's will benefit some 20,000 domestic workers.
10. Protecting Voting Rights
Twelve states (California, Colorado, Delaware, Florida, Maryland, Nevada, New Hampshire, New Jersey, New Mexico, Oregon, Virginia and West Virginia) have passed legislation protecting voting rights in 2013, while voting rights legislation was vetoed by the governors of Nevada and New Jersey.