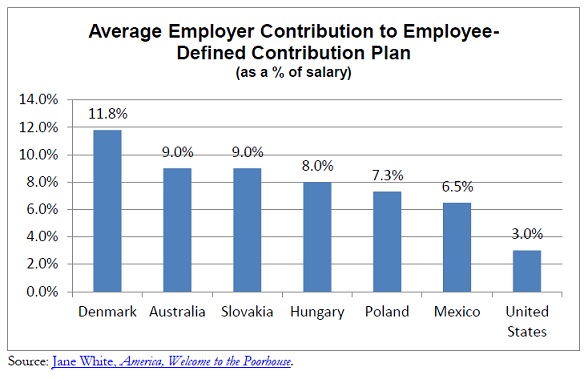 A new report from the Center for Effective Government and the Institute for Policy Studies shows that two groups of corporate CEOs pushing for cuts to Social Security benefits, such as the "chained" CPI, personally have massive retirement plans. They also have allowed massive deficits to grow in their employees' pension funds. While these CEOs—members of the Business Roundtable and the Fix the Debt Coalition—sit on retirement funds most people couldn't even dream of, they have hurt their own employees' retirement security and are looking to do the same for people who don't even work for them.
According to the report, more than 25% of Fix the Debt members are also members of the Business Roundtable, including more than half of the Business Roundtable's executive council. Fix the Debt is made up of more than 135 CEOs and tries to paint itself as very dedicated to serving the public, with the goal of protecting Social Security. The Business Roundtable, which includes more than 200 CEOs, doesn't even pretend that it cares about public interest.
Members of the Business Roundtable, the report shows, have retirement accounts more than 1,200 times greater than the median retirement savings of U.S. workers near retirement age. When they retire, the $14.5 million fund they average will give them monthly retirement payments of nearly $90,000. The average monthly payment for everyone else is about $70.
While many of the Business Roundtable CEOs don't even offer their employees pension plans, those who do aren't exactly managing those funds well. The report found that 10 of the CEOs who do offer pensions plans have funds that run deficits between $4.9 billion and $22.6 billion. CEOs like those in the Business Roundtable and Fix the Debt are major players in the country's growing retirement security crisis:
Over the past several decades, chief executives have slashed retirement benefits for their employees. Traditional defined-benefit corporate pensions covered 38% of private-sector workers in the early 1990s, compared with just 18% today, according to the Bureau of Labor Statistics. The number of companies providing traditional pension plans has dropped from just over 112,000 in 1985 to 22,697 in 2013.
Read the full report.