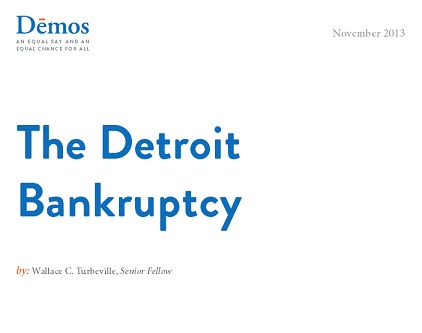 As the story goes, the city of Detroit went bankrupt because of $18 billion in long-term debt, in large part caused by pension and health care benefits. A new report, written by Wallace Turbeville and released today from Demos, says that narrative is inflated, inaccurate and irrelevant to explaining the city's bankruptcy.
Despite what the city's emergency manager Kevyn Orr, who was hired by Gov. Rick Snyder (R), says, the $18 billion figure is not relevant to the city's bankruptcy. To emerge from the bankruptcy, according to chapter 9 of U.S. bankruptcy code, Detroit only needs to address its cash flow shortage, a number that even Orr sets at only $198 million. But that number, much like the $18 billion number, is inflated because it goes with extremely aggressive assumptions for economic trends that are very unlikely to represent what really happens.
When projecting costs, governments often create several projections, often reflecting best-case scenarios, worst-case scenarios and some moderate position in between those two. Governments usually choose the moderate option in order to determine their budget projections. But Orr, Turbeville says, has chosen the worst-case scenario and isn't at all based on a certain liability that the city will face. Furthermore, Orr includes in that total nearly $6 billion of debt from the Water and Sewage Department debt as city liability, despite the fact that this liability is based on an area much broader than the city. The department covers 3 million people in southeastern Michigan, not just the slightly more than 700,000 people who actually live in Detroit.
Turbeville notes that the city's operating expenses have declined by 38% since the beginning of the Great Recession. During that same time, the city's pension obligations only rose by $2 million. Health care expenses increased by 3.25%, less than the national average of 4%. The biggest proportion of increased costs for the city actually comes from debt service and financial expenses related to complex Wall Street investments that amounts to more than pension and health care increases combined. Other key components of the city's deficit are:
A significant decline in revenue based, in large part, on the city's declining population, which contributed to declines in tax revenue and property values.
A decline of $67 million in state revenue sharing with the city.
As much as $20 million annually in corporate subsidies that have provided questionable benefits to Detroit.
The report concludes:
Detroit's bankruptcy is, at its core, a cash flow problem caused by its inability to bring in enough revenue to pay its bills. While emergency manager Kevyn Orr has focused on cutting retiree benefits and reducing the city's long-term liabilities to address the crisis, an analysis of the city's finances reveals that his efforts are inappropriate and, in important ways, not rooted in fact. Detroit's bankruptcy was primarily caused by a severe decline in revenue and exacerbated by complicated Wall Street deals that put its ability to pay its expenses at greater risk. To address the city's cash flow shortfall and get it out of bankruptcy, the emergency manager should focus on increasing revenue and extricating the city from these toxic financial deals.
Read the full report.