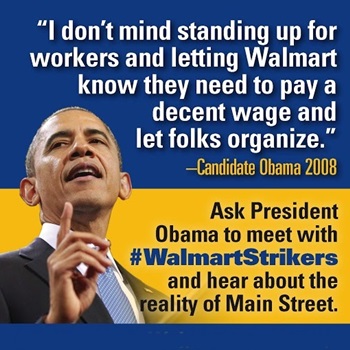 Walmart associates all over the United States have been speaking up for their rights on the job, asking Walmart to pay a living wage and treat them with respect. Today, actor and prolific tweeter Ashton Kutcher weighed in on Twitter, addressing the food collection at a Canton, Ohio, store held for fellow associates in need:
Walmart is your profit margin so important you can't Pay Your Employees enough to be above the poverty line? http://t.co/YT8QDmyJ8G

— ashton kutcher (@aplusk) November 19, 2013
Walmart responded, saying they were proud of their Canton associates for the "act of human kindness," but they missed the point, which Kutcher made clear. If a company makes billions of dollars in profits each year, it can afford to pay its workers a living wage so they can afford to feed their families.
Read the Twitter exchange between Kutcher and Walmart here.
Join the movement and check out BlackFridayProtests.org to find a Black Friday action near you.
Sign the petition asking President Barack Obama to meet with Walmart workers and hear firsthand about why they're calling on Walmart for a living wage.