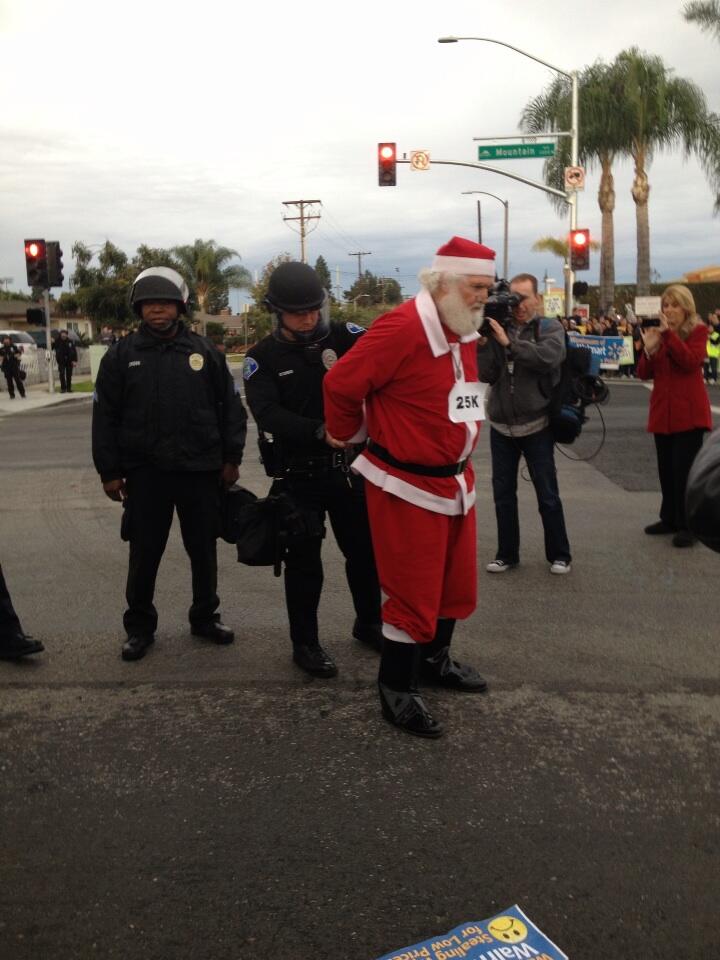 Today, workers from Walmart stores across the country joined with allies to call upon the company with $17 billion in annual profits to pay its full-time workers a minimum of $25,000 a year and for the company to stop punishing workers who stand up for their rights. Rallies were held at more than 1,500 Walmart locations. Working families in nine major cities planned civil disobedience as part of the protests, and arrests were made in numerous cities, including Alexandria, Va., Dallas, Tex., California, and Illinois. Learn more about the action and why its important to stand with Walmart workers at BlackFridayProtests.org.
Text BLACK to 235246 to support the Walmart associates speaking up for their rights. Standard data and message rates may apply.
Below are Twitter highlights from the actions. The Walmart actions can be followed on Twitter at #WalmartStrikers.
Between PR, executive pay, and stock buy backs, Walmart can afford to pay workers at least $25K. Low wages are a choice. #WalmartStrikers

— Working America (@WorkingAmerica) November 29, 2013
"We work hard and should be able to support our families." @ForRespect member #WalmartStrikers #BlackFriday pic.twitter.com/1nOnpie4et

— Making Change @ WMT (@ChangeWalmart) November 29, 2013
RT @UFCW400: Giant, Safeway & Shoppers Food and Pharmacy shop stewards joined the #WalmartStrikers protest this a.m. http://t.co/c3A8gzfKKt

— UFCW (@UFCW) November 29, 2013
@AFTunion @rweingarten Thank you for the way teachers are standing with #WalmartStrikers

— Marianne Manilov (@MSQRD) November 29, 2013
#walmart has fired dozens of workers for speaking out. But that hasn't silenced them #WalmartStrikers pic.twitter.com/GaPGYeLvXS

— Andy Richards (@richards_andy) November 29, 2013
Walmart represents everything wrong w/ corporate greed. Poverty wages, destruction of communities. Too much power. #WalmartStrikers #Union

— L'Etat C'est Moi (@letat_lechat) November 29, 2013
Workers at Whole Foods inspired by #WalmartStrikers go on strike themselves: http://t.co/QgkfgFz5uw

— Jobs with Justice (@jwjnational) November 27, 2013
"They say roll back, we say fight back!" The Walton family has more wealth than 42% of US combined. #WalmartStrikers pic.twitter.com/WD3euqiEe7

— 99 Pickets (@99pickets) November 29, 2013
Stand with #WalmartStrikers at a Black Friday protest near you---> http://t.co/8oOAAMbxTH

— AFL-CIO (@AFLCIO) November 28, 2013