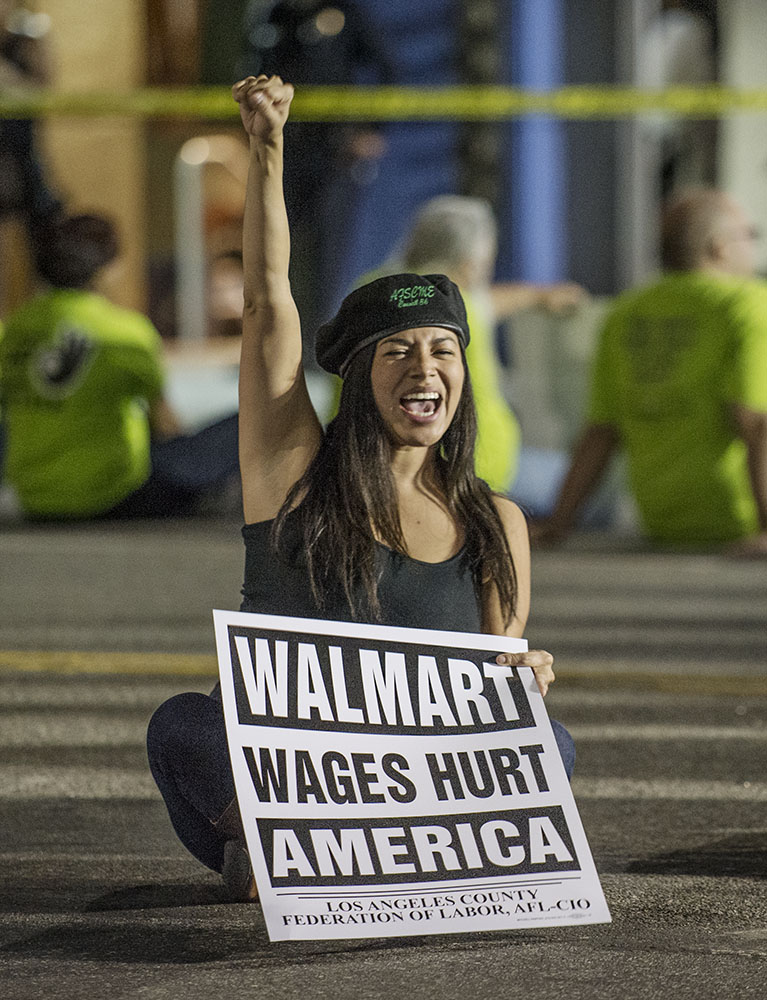 More than 50 Walmart workers and community, faith and union supporters—including María Elena Durazo, executive secretary-treasurer of the Los Angeles County Federation of Labor—were arrested Wednesday night protesting Walmart's low wages and alleged retaliation against workers speaking out for change.
The 54 were arrested after sitting down in an intersection outside a Chinatown Walmart. More than 500 Walmart workers and their supporters crowded the nearby sidewalks and cheered on the demonstrators. The arrests followed a day of strikes by Walmart workers at several Southern California stores. The walkouts continued Thursday.
One of the protesting Walmart workers, Anthony Goytia, a 31-year-old father of two, told The Huffington Post that he will make about $12,000 this year. It's a daily struggle, he said, "to make sure my family doesn't go hungry."
The power went out at my house yesterday because I couldn't afford the bill, I had to run around and get two payday loans to pay for my rent…Yesterday we went to a food bank.
The company has turned a $17 billion profit so far this year, yet pays its workers so little many of them count on public assistance for food and health care. The strikers in Los Angeles and Walmart workers who plan nationwide demonstrations on Black Friday are demanding the company pay full-time workers at least $25,000 a year.
Learn more about the Black Friday actions and search for a day-after-Thanksgiving event in your area. Also be sure to visit Our Walmart and Making Change at Walmart for more information. See more photos from the Los Angeles County Federation of Labor below.