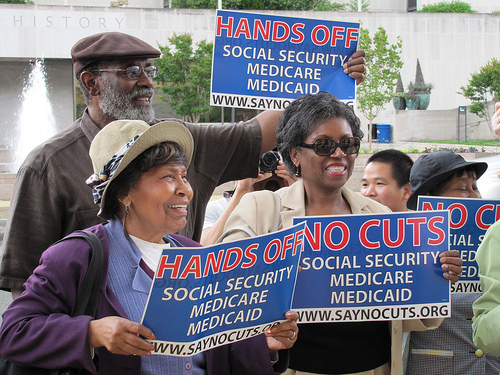 We've heard of the looming retirement security crisis, but this statistic is extremely sobering: The majority of black and Latino workers (62% and 69%, respectively) do not own assets in a retirement account. This is from a new report by the National Institute on Retirement Security (NIRS) released this week.
To make things worse, three out of four black households and four out of five Latino households ages 25 to 64 have less than $10,000 in retirement savings, compared to one out of two white households.
"Those are startling findings," says Diane Oakley, executive director of NIRS. "The typical household of color has nothing saved in a retirement account."
Oakley raises the point that tax incentives meant to bolster retirement savings more often than not fail to help black and Latino workers, who on average have less money available to save for retirement.
"One of the big issues here is a gap in access," Oakley tells The Washington Post. "We have what is essentially a voluntary retirement system and what we know is when we look at minority households, their access to retirement plans on the job is much less than that for whites."
In another study examining how the current retirement system is failing America's workers, Economic Policy Institute's Monique Morrissey and Natalie Sabadish argue these gaps in retirement security make the case all the more strongly to bolster Social Security benefits, not cut them:
The trends exhibited in these figures paint a picture of increasingly inadequate savings and retirement income for successive cohorts and growing disparities by income, race, ethnicity, education and marital status. Even women, who by some measures appear to be narrowing gaps with men (in large part because men are faring worse than they did before) are ill-served by an inefficient retirement system that shifts risk onto workers, including the risk of outliving one's retirement savings. The existence of a retirement system that does not work for most workers underscores the importance of preserving and strengthening Social Security, defending defined-benefit pensions for workers who have them and seeking solutions for those who do not.
The AFL-CIO is calling on Congress to strengthen Social Security benefits and reject any proposed cuts, whether it's the misguided "chained" CPI, means-testing or raising the retirement age. Read more on retirement security on the AFL-CIO website.