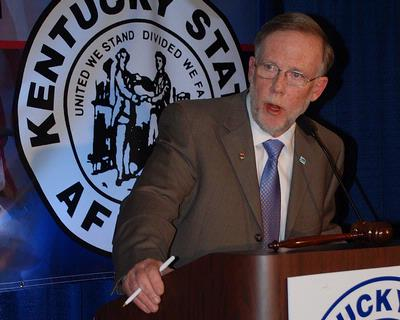 It looks like Sen. Rand Paul, a serial plagiarizer, is at it again or maybe now he's just making stuff up.
"Did you know that 'right to work' states have created jobs at a rate three times greater than Kentucky over the past decade?" the Kentucky Republican recently wrote in a letter touting a "right to work" for less law for the Bluegrass State.
It's hard to tell if Paul fudged the facts on his own or if he's cribbing again. He didn't cite any sources. Kentucky State AFL-CIO President Bill Londrigan says:
It's amazing how Rand Paul and other 'right to work' for less supporters continually use the false claim that 'right to work' for less states gain jobs upon passage of a 'right to work' for less law. Paul and his cohorts have never proven this key claim and refuse to acknowledge that in the states that most recently passed 'right to work' for less: Michigan, Indiana and Oklahoma, there is no proof—none whatsoever that 'right to work' for less has brought more jobs to these states.
Paul, who is also pushing a national "right to work" for less law, says "passage of a Kentucky 'right to work' law has never been more relevant or essential to the future success of our state."
Londrigan begs to differ:
No Sen. Paul, it isn't even close. No new jobs because of RTW. No flood of new companies.
Unlike Paul, Londrigan cites his sources. For example, he notes that while supporters of Michigan's RTW law promised it would bring jobs to the Great Lakes State, a Dec. 8 Detroit Free Press article says, "no examples could be found of businesses that have [come to the state]…because Michigan is now a 'right-to-work' state."
Londrigan also invites "right to work" proponents to peruse a Dec. 11 Lansing State Journal editorial that says:
The Michigan Economic Development Corporation acknowledges it can't point to specific examples of new businesses arriving in Michigan due to the 'right-to-work' change. It also didn't offer examples of companies that considered Michigan in the wake of right to work.
Paul seems to be especially proud of that Indiana, one of Kentucky's northern neighbors, has a "right to work" law. The ink was hardly dry on Republican Gov. Mitch Daniels' signature on the law when backers of the measure—including Daniels—began touting its "success."
Yet Londrigan says a Dec. 11, 2012, Economic Policy Institute (EPI) report by Gordon Lafer, Marty Wolfson and Nancy Guyott reveals that;
Neither the governor nor Indiana officials, however, have been able to provide evidence that 'right to work' (RTW) was the determinative factor in even a single company's decision to locate in the state.
Londrigan also says Lafer's Jan. 11, 2012, article in The Nation further debunks claims that "right to work" laws help create jobs.
In the 10 years since Oklahoma adopted RTW, the number of manufacturing jobs in the state has fallen by about one-third. The average number of new companies coming into the state has been one-third lower in the decade since RTW was adopted than in the preceding decade.
Other inconvenient facts Paul left out of his letter include:
On average, a worker in a RTW state earns $1,540 a year less (when all other factors are subtracted) than workers in states without RTW laws, according to the AFL-CIO, citing the EPI.
Median annual household income in states with RTW laws is $6,437 less than in non-RTW states ($46,402 vs. $52,839), says the AFL-CIO, based on statistics from the U.S. Census Bureau.
In states with RTW laws, 26.7 percent of jobs are in low-wage occupations, compared with 19.5 percent of jobs in non-RTW states, according to the AFL-CIO, citing the Corporation for Enterprise Development.
Concludes Londrigan:
Let's face it Sen. Paul, it is not about creating jobs but about hating unions. With your sponsorship of a national 'right to work' law that would make every state right to work for less, your claims about creating jobs by stealing them from non-'right to work' states would go out the window and the reality that states are losing jobs to foreign countries due to flawed trade deals you support will be recognized as the real reason for our long term unemployment—not because Kentucky or any other state is not a 'right to work' for less state.
Berry Craig, recording secretary for the Paducah-based Western Kentucky AFL-CIO Area Council and a professor emeritus of history at West Kentucky Community and Technical College, is a former daily newspaper and Associated Press columnist and currently a member of AFT Local 1360.