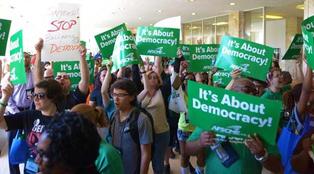 A federal bankruptcy judge today ruled that the city of Detroit is eligible for bankruptcy protection and may cut pension benefits for retired city workers, despite a provision in the state's Constitution banning such pension cuts. Attorneys for city workers, firefighters and police officers say they will appeal the judge's ruling.
Kevyn Orr, Detroit's so-called emergency manager appointed by Gov. Rick Snyder (R) to take the city into bankruptcy over its $18 billion in long-term debt, is claiming the financial problems were caused by pension and health care benefits and wasted no time following the judge's ruling today outlining his plans to cut retirees' pensions. He told the Detroit Free Press editorial board those cuts will be central in his reorganization plan and that he will not ask for state help to avoid pension cuts.
In a statement this afternoon, the Michigan State AFL-CIO and Metropolitan Detroit AFL-CIO said:
Working people across Michigan are appalled by today's ruling in the Detroit bankruptcy case. Taking from retirees who already make do with very little will not fix the city and sets a dangerous precedent for our entire state.
Sharon L. Levine, a lawyer for AFSCME Council 25, told The New York Times that if pensions are cut for some 21,000 retired public employees—with average pensions of about $19,000:
They're going to lose their homes. They're going to lose medical benefits. They're not going to be able to feed their families. These are very scary issues. So while we're working through the mediation process and we hope to be able to negotiate through the plan of adjustment process, we are going to pursue all our litigation options, as well. We have to.
Detroit Fire Fighters (IAFF) Local 344 President Jeff Pegg said in statement:
This is far from the end of our fight….As the process moves forward, we will continue working to preserve our pension rights and the protections they have under the state Constitution, while we work to convince the City and the Court that, precisely because of our essential contribution to public safety, we must not be treated like the general unsecured debt of Wall Street bankers and their insurers.
Basically, Judge Steven W. Rhodes ruled that federal bankruptcy law preempts the Michigan Constitution's pension protection provision.
The Michigan and Detroit AFL-CIOs warned that ruling also:
Sends a clear signal that if you work hard and earn a fair pension, a governor with a radical, right-wing political agenda can use the federal bankruptcy court as a tool to rob you of everything you earned.
Rhodes did say he won't necessarily agree to pension cuts in the city's final reorganization plan unless the entire plan is fair and equitable. He said the court "will not lightly or casually exercise the power to impair pensions."
Liz Iacobucci of the New Hampshire Labor News writes this afternoon that Rhodes' ruling could be felt outside of Michigan, in other states like New Hampshire that have similar pension protections written into their constitutions.
Think about that, carefully—because to me, that is the single most frightening part of this whole situation. The judge held that federal bankruptcy law trumps a state constitution. One more time: According to this morning's ruling, a law passed by Congress can invalidate a provision of a state constitution.