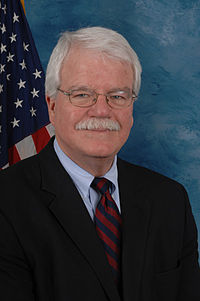 In his State of the Union address, President Barack Obama joined a growing chorus of voices demanding that the national minimum wage be raised. Tuesday, Senator Tom Harkin (D-IA) and Representative George Miller (D-Calif.) announced they will introduce the Fair Minimum Wage Act of 2013.
Miller said:
Right now, tens of millions of Americans are working hard stocking shelves. They're working the line at a fast food restaurant and cleaning bathrooms in a downtown office building.
They work full-time. Some work two or three part-time jobs. They play by the rules. They contribute.
And yet? They still live in poverty.
And they are falling behind because their paychecks aren't keeping up. Today, 40 percent of Americans make less than what the minimum wage was worth in 1968. This is immoral. And it is economically dangerous. Income inequality threatens the economic security of working families and the strength of our nation. That's why we are here today – workers and business leaders alike – to say that it's time for ten-ten.
It's time for ten-ten because raising the minimum wage to ten dollars and ten cents an hour will put more money in workers' pockets and more green in the tills of businesses across the country. It's time for ten-ten because that bigger paycheck will go right back into the economy – back into local small businesses that are always looking for new customers. It's time for ten-ten because we know businesses can afford to raise the minimum wage.
According to the National Employment Law Project (NELP), the bill would:
Raise the federal minimum wage to $10.10 by 2015, in three steps of 95 cents each.
Adjust the minimum wage each year to keep pace with the rising cost of living starting in 2016–a key policy reform known as "indexing," which ten states are already using to prevent the minimum wage from falling in value each year.
Raise the minimum wage for tipped workers–which has been frozen at a meager $2.13 per hour for more than twenty years–to 70% of the minimum wage.
The AFL-CIO Executive Council issued a statement last week calling for a high-wage strategy to boost the economy that includes restoring the minimum wage to its historical value, something this bill does, according to its sponsors and supporters. Nearly 200 other organizations have already signed on in support of the bill.
NELP says that the benefits of the bill will be widespread, as 30 million workers will get a raise. Since consumer spending accounts for 70% of U.S. economic activity, the Economic Policy Institute says raising the minimum wage to $10.10 will boost consumer demand and could generate $32 billion in new economic activity and 140,000 new full-time jobs.
Despite Republican and corporate interests constantly saying that increasing the minimum wage will negatively affect jobs, a recent report from the Center for Economic and Policy Research (CEPR) shows that raising the minimum wage does not increase unemployment. The review of more than a decade of scientific research found that businesses see offsets in any negative impacts that negate any harm on employment through reductions in labor turnover, improvements in organizational efficiency, wage compression and small price increases that customers are willing to pay, among other factors.