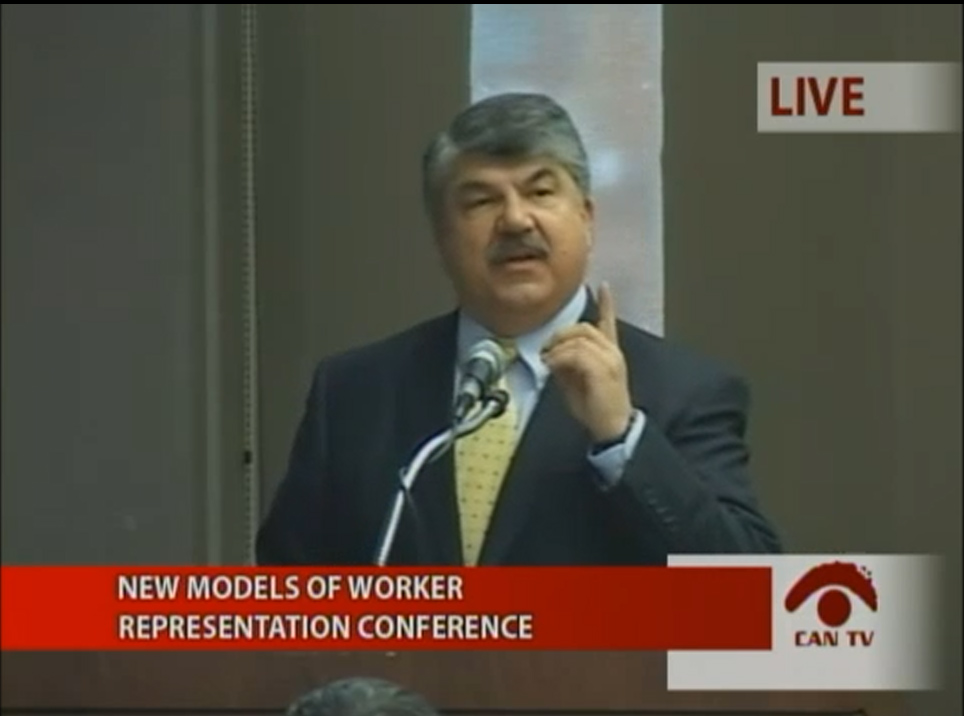 The basic system of worker representation is failing to meet the needs of America's working men and women by every critical measure, said AFL-CIO President Richard Trumka at today's 2013 Conference on New Models of Worker Representation in Chicago. Labor unions are vulnerable, which is a challenge, but this vulnerability also presents an opportunity to innovate, he said.
The AFL-CIO, along with its affiliate unions, community partners and allies, are embarking on a deep evaluation of the future for working people and the labor movement and exploring innovations for the future of worker organizing.
Last year, the union movement lost 400,000 members.
"These statistics frustrate me, because they obscure the people behind them. This isn't about fewer dollars for the salaries of union officers, despite what Fox News says," said Trumka. "Each of those numbers represents a person who has lost a job or no longer has a voice at work. Think about all those conversations at kitchen tables—all those families who fear what comes next—who worry about how to keep a home or what to do without health care."
When workers don't have a voice on the job, it brings down wages, inequality rises and workers lose out on gains they've made. Studies show that as union membership dwindles, so does the incomes of the middle class. "Workers produce more but earn less," said Trumka. "Retirement security has fallen. The gap between the wealthiest and working people is as bad as or worse than it has been at any time in the past century."
Despite the challenges workers face, there are positives developments we can look at. Even though wages have flat lined, America's workers are still making tremendous gains in productivity and education (despite the enormous amount of student debt young folks are taking on). Immigrants are still seeking opportunity in the United States. A silver lining in the recent federal Bureau of Labor Statistics report on union membership is that Latino workers are actually seeing an increase in unionization.
Also, the union movement is a large force for progressive change in the United States. With 14 and a half million mobilized members, unions are actively promoting a pathway to citizenship for our nation's 11 million aspiring citizens, advocating for raising the minimum wage and the right to paid sick leave, and many other initiatives that help working families get ahead.
Last November's election was a clear sign union members and working families represented the majority of America's workers. "Our network of coalition partners is diverse, strong and growing," Trumka said. "At our AFL-CIO Executive Council meeting last month, we rededicated ourselves to a process through which we are strengthening the ties between local labor councils in cities like Chicago and state federations in states like Illinois and other progressive groups like the NAACP, NCLR [National Council of La Raza], Mom's Rising and the Sierra Club."
Now, the question is, how do we use our resources and membership to bolster the working and middle class and give more workers a voice on the job? First, the union movement needs to be open for everyone. It is hard enough for people to join the traditional way through an organizing drive at work. Working America, the AFL-CIO's community affiliate, is one example of a national membership group that is available to all workers who do not have a union on the job. Around the country, workers in industries—the film industry, construction and retail workers, for example—are joining Working America industry committees as a way to get closer to unions and begin to take collective action.
We are building other new forms of membership through partnership agreements with the National Day Laborers Organizing Network and the National Domestic Workers Alliance. In 2006, here in Chicago, the AFL-CIO adopted a new policy extending affiliation to worker centers across the country, from New York to California.
Trumka pointed to examples of organizing among workers who do not neatly fit the definition of an employee. SEIU and AFSCME made union membership available to thousands of home care and home-based workers in child care, even though they were not considered employees. Taxi workers in New York City successfully formed the National Taxi Workers Alliance (NTWA) 10 years ago, even though the law considers them to be independent contractors.
The NTWA has now spread to other cities. Ninety percent of New York's cabbies are immigrants, largely from South Asia—Bangladesh, Pakistan, India. Their union now has an organizing charter from the AFL-CIO, the first we have issued in decades....
Second, the union movement can move ahead by organizing strategically in fields of work that are growing in the global economy.
Many of our unions were created over 100 years ago when the economic and demographic landscape was very different. We can't just defend our historic industrial and geographic bases when global forces far outside our power to control are eroding, if not destroying, those bases. Unions and our progressive allies need to collectively redirect our energy to focus on where jobs will be in the future and which workers can successfully organize and gain representation in the new global economy.
More and more workers each year are employed in food services and other low-wage industries. The Restaurant Opportunities Centers (ROC) United is an example of a group that is not a traditional union, but is organizing around raising the minimum wage for tipped workers and gaining paid sick leave for people employed in the food service industry.
Finally, the union movement must look at its internal structure and deploy resources more effectively.
State-level attacks on workers like those in Wisconsin and Michigan, for example, cannot be defeated only by unions operating within one state
Also, global cooperation is important to unite union members across the world and geographic areas. UAW members are helping Nissan workers come together in Mississippi and Tennessee, and Communications Workers of America (CWA) helped form a new union, TU, together with ver.di, Germany's largest service union, to organize and represent all Deutsche Telekom/T-Mobile workers in the United States.
The union movement also cannot grow if we do not reach out to younger workers. Only 4.2% of workers between the ages of 16 and 24 were union members in 2012. Faced with high student debt, jobs that don't offer advancement and an uncertain future, young people will demand something better.
Trumka said:
When we restore worker representation, we can restore the American Dream, the dream that each and every one of us, if we work hard and play by the rules, if we do our part, can have a piece of the good life, that we can earn fair pay and raise a family if we want one, have quality affordable health care and look forward to a dignified retirement, and that we can pass along a better life to our kids and grandkids.