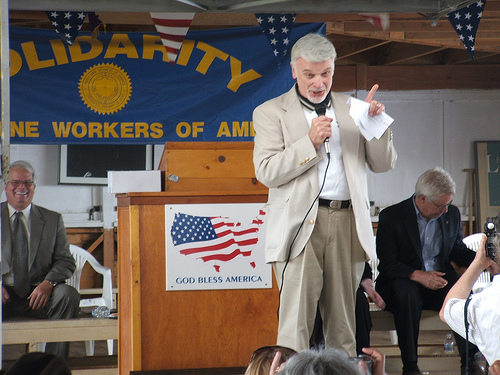 As previously reported, the Mine Workers (UMWA) contend that Patriot Coal was set up by Peabody Energy and Arch Coal purposely to fail in order to dump costs associated with retirees who had worked for the two companies. Now Ben Hatfield, the current CEO of Patriot, says that he agrees with UMWA President Cecil Roberts that the creation of Patriot seemed destined to fail. Hatfield was, at the time, CEO of International Coal Group. Patriot recently has filed Chapter 11 bankruptcy in order to shed retiree costs, mostly from Peabody and Arch.
Hatfield, who was CEO of a different coal company when Patriot was created, said in an interview last week with the State Journal Energy Blog:
Frankly, as a competitor, we looked at that and said "how could that work?" It looks like a bad balance here—too many liabilities and not enough assets. Now, they were some good assets. These are coal mines that have a lot of potential and good people and good management, but an inordinate amount of legacy liabilities disproportionate to the assets. As a competitor we were very suspect from the day the spin was announced as to whether this venture could survive.
Even if you go back to the public announcements at the time of the spin, Peabody proudly declared they had divested a significant, indeed the majority of their long-term labor liabilities. They saw it as an opportunity to segregate Peabody going forward from liabilities that were sure to grow in an industry that is very challenged, particularly in Appalachia. So, I think it was the plan.
When specifically asked if he thought the large amount of legacy costs spun into Patriot meant that the company was doomed to fail from the beginning, Hatfield said:
I think it's a fair assessment to be honest. It's one of the areas where I frankly agree with many of the things (UMWA President) Cecil Roberts has said. Something doesn't quite smell right here.