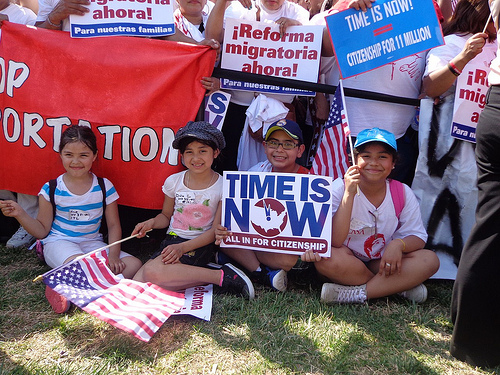 More than 11 million aspiring citizens will have the opportunity to access a road map to citizenship under the terms of a commonsense immigration reform bill that was introduced today.
While immigration reform advocates are still examining the legislation's 844 pages, here are highlights that address some of the united labor movement's key immigration principles, including moving forward on creating a road map to citizenship.
Road Map to Citizenship
The more than 11 million immigrants currently in the country without proper documentation and who were in the United States before Dec. 31, 2011, may apply for a newly created immigration status called Registered Provisional Immigrant (RPI). Application requires paying a $500 fine, plus some fees. RPI status includes authorization to work and allows the workers to change jobs and travel outside the United States.
After 10 years, a person with RPI status who has been regularly employed may apply for a green card (permanent residence) and after three years may apply for citizenship. Applicants also must show proficiency in English and pass a criminal background check. Persons convicted of an aggravated felony, felony, three separate misdemeanors or voting fraud are not eligible.
DREAMers
DREAMers, those who were brought to this country at a young age and have been raised and educated in the United States, have a shorter path to citizenship under the new legislation. They also must apply for RPI status, and after five years would apply for a green card. Time spent in RPI status will count towards naturalization and allow DREAMers to become citizens immediately after receiving their green cards. Additionally, DREAMers who were deported but would have qualified for the program if they were in still in the country can apply and return to the United States.
Agricultural Workers
Agricultural workers who worked at least 100 days in the agriculture industry during the 24-month period that ended Dec. 31, 2011, may apply for a new blue card status that will allow them to continue to work in the industry for three to five years and then apply for a green card.
Worker Protections
All immigrant workers will covered by U.S. labor laws, including from minimum wage, workplace safety, anti-discrimination, whistle-blower protection and other labor laws.
AFL-CIO President Richard Trumka addressed some concerns in a statement:
As is to be expected in an 844-page first response to an issue as complex as immigration, there are several details in the bill that cause unintended, but serious harm to immigrant workers and the broader labor market. We will work to correct those problems now that a bill is before the Senate Judiciary Committee.
Hearings on the bill are scheduled for this week and next in the Senate Judiciary Committee, with the goal of a full Senate vote this summer.
Trumka is optimistic a road map to citizenship will be inclusive and working families will make that a priority:
Our role is to make sure that road map leads to citizenship achievable not only in theory but in fact. Workers care for the elderly, mow our lawns or drive our taxis, work hard and deserve a reliable road map to citizenship. And so the labor movement's entire grassroots structure will be mobilized throughout this process and across this country to make sure the road map is inclusive.