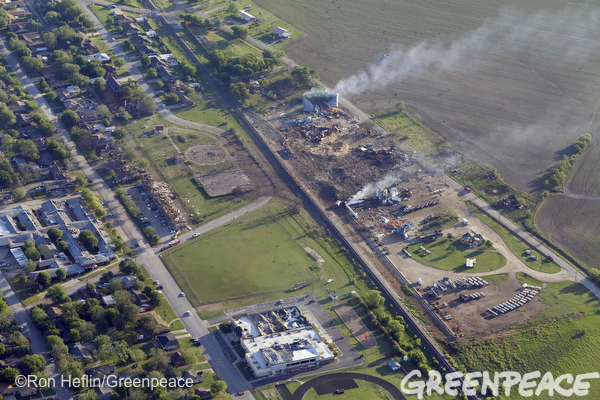 The West, Texas, fertilizer plant, where a fire and explosion last week claimed at least 14 lives—including 11 firefighters and EMTs—and injured more than 200, was last inspected by the Occupational Safety and Health Administration (OSHA) in 1985.
In 2011, the West Fertilizer Co. filed an emergency response plan with the U.S. Environmental Protection Agency (EPA) that said there was no risk of fire or explosion, despite the fact that as much as 54,000 pounds of flammable and toxic anhydrous ammonia could be stored on the site.
While the plant reported that it was storing up to 270 tons of highly explosive ammonium nitrate to state authorities—Oklahoma City bomber Timothy McVeigh needed just two tons to blow up the federal building and kill 168 people—it did not report that fact to the U.S. Department of Homeland Security.
In addition, several other federal and state agencies had pieces of the regulatory responsibility to protect the workers and community. The plant was surrounded by homes, a senior citizen housing project and a nearby school. But as Bryce Covert of Think Progress writes:
Many of these agencies have previously cited and/or fined the company. But they aren't required to coordinate with each other, and small distributors like the one that exploded are part of a system that focuses more on larger plants.
While those state and federal agencies may inspect certain segments of a plant's operations—emissions, for example—OSHA is the agency with the broadest mandate and authority to inspect a plant's entire operations, enforce safety and health laws and, if need be, shut it down. But as the 2012 AFL-CIO report Death on the Job notes, OSHA is so understaffed and underfunded that federal inspectors can inspect each workplace on average of one each 131 years.
There are some 2,200 OSHA inspectors for the country's 8 million workplaces and 130 million workers. In Texas, OSHA conducted 4,448 inspections in the past fiscal year, a pace that would mean it would visit every workplace in 126 years, according to Death on the Job.
In addition, says AFL-CIO Safety and Health Director Peg Seminario, the West Fertilizer plant had just seven employees and "these kind of workplaces are not typically inspected by OSHA."
What people don't understand is how limited resources are to oversee workplace safety and health.
BlueGreen Alliance Executive Director David Foster calls the 35-year gap, since the last inspection at the West Fertilizer plant, "a stunning indictment" of OSHA's underfunding.
While the Obama administration has increased funding for OSHA after nearly a decade of cuts under the Bush administration, the Republican sequester now in place "means fewer inspectors to monitor facilities like the West Fertilizer Company," says Keith Wrightson, worker safety and health advocate for Public Citizen.
Small budgets also make it even harder for the agency to issue new safety standards. The agency's budget is similar to what it was several decades ago, but the size of the economy—and the number and complexity of workplaces to inspect—has grown tremendously.
Tom O'Connor, executive director of the National Council for Occupational Safety and Health, says, "This tragic explosion points to the need for more resources allocated to OSHA."
With adequate funding for more OSHA inspectors, more potentially dangerous sites— like this fertilizer manufacturing plant—can be inspected and hazards abated.
But while workplace safety advocates have pushed for stronger health and safety standards—including chemical safety standards for facilities such as West Fertilizer, Covert writes:
Even with all of the evidence that the plant fell through a variety of regulatory cracks, an industry-backed bill with ties to the Koch brothers with the support of 11 congressmen would reduce the EPA's powers to regulate major chemical sites.
For a more detailed look at the regulatory history of the West Fertilizer plant, see this Huffington Post report by Chris Kirkham and Ben Hallman.