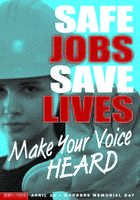 A century ago on Workers Memorial Day, millions of men, women and children worked long hours at low pay in jobs that threatened their lives and limbs.
Many of them were immigrants.
"They don't suffer," George F. Baer said of coal miners who came to America from eastern Europe. "Why, hell, half of them don't even speak English."
Known as "Divine Right" Baer and "George the Last," he was the fiercely anti-union president of the Philadelphia and Reading Railroad. The company also owned coal mines.
Baer rates only a few lines in most history books. Even so, he is worth remembering every day, but especially on Workers Memorial Day, which has been observed every April 28 since 1989.
In Baer's time, workplace safety laws were few, inadequate and mostly ignored by employers. As a result, railroads, mines, mills and factories were slaughterhouses.
Before the advent of a strong union movement, thousands of workers were killed, maimed or made seriously ill on the job each year. One apologist for the likes of Baer said the country didn't need worker safety and health laws because such laws protected "those of the lowest development."
While unions have always fought for better wages and benefits for workers, they also have tirelessly championed worker safety and health laws. Employers like Baer stubbornly and often violently resisted unions.
Baer especially hated the Mine Workers (UMWA). He once declared:
The rights and interests of the laboring man will be protected and cared for, not by the labor agitators, but by the Christian men to whom God in His infinite wisdom has given the control of the property interests of the country, and upon the successful management of which so much depends.
History teaches otherwise.
Unions, not the George F. Baers, have consistently protected and cared for the rights and interests of workers. Many union leaders have been—and still are—Christians or men and women of other faiths.
By far, UMWA mines are safer than nonunion mines. Everywhere, union workplaces are safer than nonunion workplaces.
Proof is abundant, most recently in the explosion at the Texas fertilizer plant that killed 14 people and injured 200. The plant has no union and its last Occupational Safety and Health Administration inspection was in 1985, the Associated Press reported.
Thus, we still must "mourn the dead, fight for the living." That's the unofficial motto of Workers Memorial Day.
Nobody battled harder for unions and for worker safety and health in the era of "Divine Right" Baer than the UMWA's Mother Jones. Dubbed "the most dangerous woman in America," she was also a socialist who helped start the Industrial Workers of the World.
Her picture is engraved on the Kentucky state workers memorial stone, which is on the lawn outside the Paducah-based Western Kentucky AFL-CIO Area Council hall.
Jones was dubbed the "Miners' Angel." "But she didn't always talk like an angel," said Jeff Wiggins, council president and president of United Steelworkers (USW) Local 9447.
He explained, "What she really said was, 'Mourn for the dead, fight like hell for the living.' That's what's chiseled on our memorial."
The council hall is a workers' memorial itself. The facility is named for the late Samuel D. Henderson, a council officer and member of Plumbers and Steamfitters (UA) Local 184 in Paducah. He died of injuries he suffered on the job.
Inside the hall, a photo of Henderson hangs on a wall next to a big black and white metal sign that includes the Workers Memorial Day motto:
"Workers Memorial Day
April 28
Mourn the Dead
Fight for the Living"
Berry Craig, recording secretary for the Paducah-based Western Kentucky AFL-CIO Area Council and a professor of history at West Kentucky Community and Technical College, is a former daily newspaper and Associated Press columnist and currently a member of AFT Local 1360.