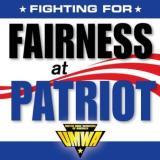 On Wednesday, Judge Kathy Surratt-States of the U.S. Bankruptcy Court for the Eastern District of Missouri ruled in favor of Patriot Coal in its efforts to eliminate its collective bargaining agreements and get out of commitments made to retirees who worked for Patriot, Peabody Energy and Arch Coal. These workers gave years of their lives to making the companies profitable only to be abandoned in their retirement years. The Mine Workers (UMWA) union continues to argue that Patriot was specifically designed to fail in order to dump retiree health care costs. The current CEO of Patriot, Ben Hatfield, has agreed with that assessment.
UMWA International President Cecil E. Roberts said the ruling was "wrong, unfair and fails to fully recognize the coming wave of human suffering that will be experienced by thousands of people throughout the coalfields." Roberts said not only was the decision morally wrong, it wasn't a necessary financial move for the company:
The UMWA presented a very clear picture in court of what Patriot actually needed to come out of bankruptcy. Patriot can survive as a viable and profitable company well into the future without inflicting the level of pain on active and retired miners and their families it seeks. Patriot is using a temporary liquidity problem to achieve permanent changes that will significantly reduce the living standards of thousands of active and retired miners and their families. We are disappointed that the Bankruptcy Court failed to see that, and we intend to appeal the ruling to the Federal District Court.
Under the ruling, Patriot will be allowed to stop paying retiree health care benefits as early as July 1. A Voluntary Employees' Beneficiary Association (VEBA) takes over payment of the benefits, but the VEBA only has guaranteed funding of $15 million and about $5 million more per year based on royalty payments from Patriot. Current monthly health care costs for the retirees are nearly $7 million.
The ruling also allows Patriot to eliminate its current collective bargaining agreements with UMWA, and the company could cut current workers' wages and health benefits and implement substandard conditions of employment, among other potential negative impacts. UMWA has filed suit charging that Peabody and Arch violated the Employee Retirement Income Security Act in creating Patriot.
Supporters of the retired coal miners, such as Green For All CEO Phaedra Ellis-Lamkins, also condemned the ruling (via press release):
Today's decision favors corporate greed over honest, loyal work. These workers have given years of service and have risked their lives in the coal mines, only to see the benefits they were promised stripped away. They deserve our support.
It is hard to imagine anything more unpatriotic than what Patriot Coal and its founding companies are doing. This represents the worst type of corporate abuse in America. Companies like Peabody coal are raking in billions in profits, while leaving their own workers high and dry.[...]
Today's decision is a setback, but it is not the end. We will continue to stand by coal miners and their families as they appeal the decision and until they receive the benefits they were promised, and the respect they deserve.