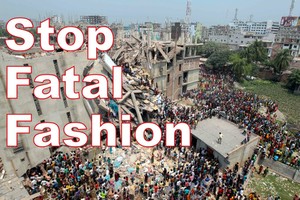 Following the tragic building collapse that killed more than 1,300 Bangladeshi garment workers and recent fires that have claimed the lives of more than 400 Bangladeshi clothing workers, more than 40 clothing retailers have signed on to the Accord on Building and Fire Safety. But two of the major retailers that count on low-wage Bangladeshi workers to make the clothes they sell have refused.
Today, Walmart and Gap announced they would develop their own nonbinding safety code and turned their backs on the accord developed by international and Bangladeshi unions, retailers and other groups—groups with firsthand knowledge of what's needed for worker safety and of the deadly consequences of inaction.
According to the fashion blog Fashionista, the Walmart-Gap plan:
probably won't be of a legally-binding nature, since that's what Gap objected to in the Bangladesh safety accord. While Gap and Walmart are no doubt trying to quell consumer backlash, it will likely backfire if this new plan doesn't place enough legal responsibility on retailers' shoulders.
In a joint statement, the AFL-CIO and Change to Win, the two labor federations, said they are:
deeply concerned about Walmart and Gap's plan to move forward with a corporate-controlled, nonbinding process for adopting building safety standards in Bangladesh….This is a matter of life or death. Quite simply, nonbinding is just not good enough.
Taren Stinebrickner-Kauffman, executive director of the corporate watchdog SumOfUs.org, told Fashionista:
There is a serious gap in Gap's credibility if it says that it only wants to sign the agreement if it is not legally binding.
In an effort to lend an air of legitimacy to their plans to develop their own safety accord, Walmart and Gap have asked former U.S. Senate Majority Leader George J. Mitchell and former Sen. Olympia Snowe to serve as "independent facilitators." But, said the AFL-CIO and Change to Win:
While former Sens. George Mitchell and Olympia Snowe are both respected for their ability to forge compromises, we cannot afford to compromise the lives of Bangladeshi workers. We are determined to get this process right, and we will express our concerns to both former senators and ask that they not participate in undermining the ongoing and more productive process led by IndustriAll and UNI global labor federations.