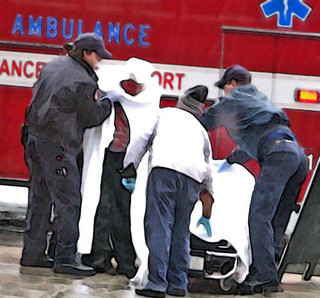 Today, 150 people will likely be killed on the job or die from job-related illnesses and disease. That deadly toll will continue tomorrow and the next day and the next until the nation "renews the commitment to protect workers from injury, disease and death," and makes it a high priority, says the 2013 edition of the AFL-CIO's Death on the Job: The Toll of Neglect.
The report, released this morning, finds that along with the 4,693 workers killed on the job in 2011 (about 13 a day)—the last figures available from the U.S. Bureau of Labor Statistics (BLS)—an estimated 50,000 workers a year (about 137 a day) die from occupational diseases. In addition, some 3.8 workers are reported to suffer job-related injuries or illnesses each year, but workplace safety experts believe the actual numbers could be more than 11 million because of under reporting.
Says AFL-CIO President Richard Trumka, it is "unacceptable that so many hardworking men and women continue to die on the job."
No one should have to sacrifice his or her life or health and safety in order to earn a decent living.
The report includes state-by-state profiles of workers' safety and health and features state and national information on workplace fatalities, injuries, illnesses, the number and frequency of workplace inspections, penalties, funding, staffing and public employee coverage under the Occupational Safety and Health Act (OSH Act).
North Dakota, Wyoming, Alaska and Arkansas were among states with the highest workplace fatality, while New Hampshire, Rhode Island and Washington State were states with the lowest. Latino workers, especially those born outside of the United States, continue to face higher rates of workplace fatalities—14% higher—than other workers, the same as last year.
For the past several years, the job fatality and injury rates have remained about the same, even though the Obama administration has worked to reverse eight years of workplace safety neglect by the Bush administration, by stepping up enforcement and appointing strong job safety advocates to key posts in the Occupational Safety and Health Administration (OSHA) and the Mine Safety and Health Administration (MSHA). But, says Death on the Job:
Since the election of a Republican majority in the House of Representatives in 2010, progress in safety and health has been threatened. Business groups and Republicans have launched a major assault on regulations and have targeted key OSHA and MSHA rules. In the face of these attacks, progress on developing and issuing many important safety and health rules has stalled, particularly at OSHA.
The report also notes OSHA and MSHA remain underfunded and understaffed. In fact, at current staffing levels, OSHA could inspect the nation's 8 million workplaces in just 113 years. In addition, current civil and criminal penalties are far too low to deter employers from violating the law.
But the Obama administration has failed to act on a number of needed job protection rules, including a silica dust exposure standard that has been stalled in the White House's Office of Management and Budget for more than two years.
The Obama administration, as a result, has issued fewer major OSHA rules than were issued by the Bush administration.
Death on the Job says the nation's job safety laws must be strengthened, including:
Providing MSHA with the authority to enhance enforcement against repeat violators and to shut down dangerous mines, such as the Upper Big Branch (W.Va.) mine that had a history of violations before an explosion in 2010 killed 29 coal miners.
Passing the Protecting America's Workers Act to extend the OSH Act's coverage to workers currently excluded, strengthen civil and criminal penalties for violations, enhance anti-discrimination protections and strengthen the rights of workers, unions and victims.
Says Trumka:
Elected leaders, business groups and employers refuse to provide stronger protections for working families and are actively trying to dismantle working people's right to collectively bargain on the job and speak out against unsafe, unjust working conditions. This is a disgrace to all those who have died. America's workers deserve better.