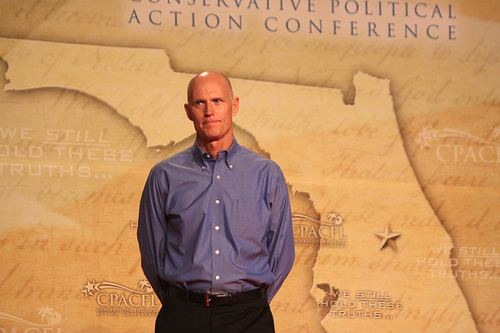 Florida Gov. Rick Scott (R) has signed legislation that prevents local governments in the state from passing ordinances requiring businesses to provide paid sick days to their employees. The bill was supported by business interests, including the the American Legislative Exchange Council (ALEC), Florida Chamber of Commerce, Walt Disney World and Darden Restaurants, which owns Olive Garden and Red Lobster.
The legislation is similar to model legislation promoted by ALEC in various states and the bill was championed by ALEC member Steve Precourt (R), the state House majority leader. Since 2011, 67 ALEC-sponsored bills to weaken wage standards have been introduced in state legislatures, 12 of which have been signed into law.
Scott's signing of the bill preempts an Orange County referendum scheduled for 2014 that would have let voters determine whether the county should require businesses to provide paid sick leave. More than 50,000 voters signed petitions to get the measure on the ballot. Big Business opposed the referendum, claiming it would drive up costs, but evidence from other locales that have approved paid sick leave measures found that such laws either had no impact or a positive one on profitability and that such policies are good for business and job growth.