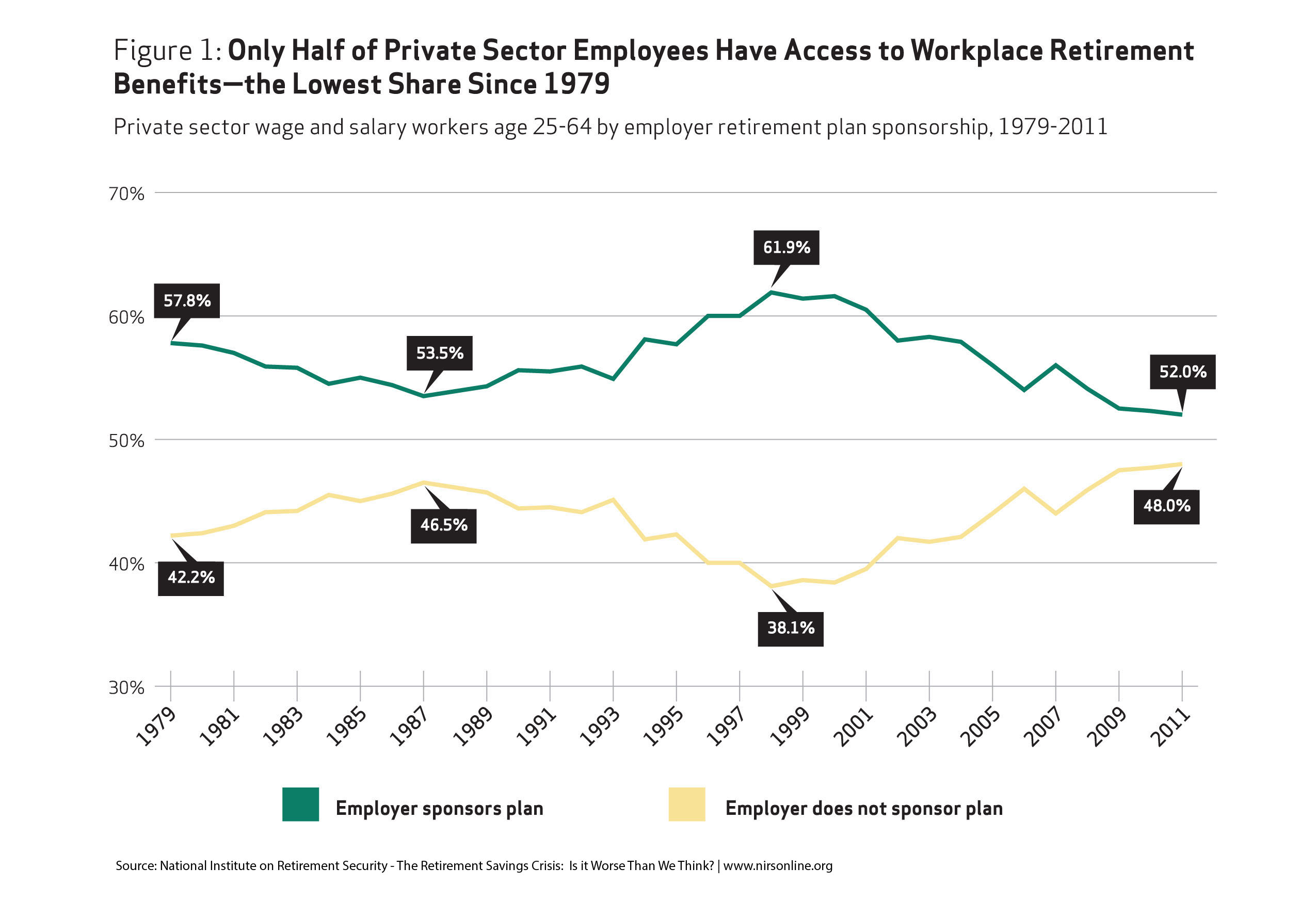 A new report from the National Institute on Retirement Security (NIRS) concludes that the United States faces a staggering retirement savings deficit. America's families are between $6.8 trillion and $14 trillion short of recommended retirement savings targets, it says, according to financial services firms. The Retirement Savings Crisis: Is It Worse Than We Think? finds the typical American family has only a few thousand dollars saved for retirement. Some 80% of working families have retirement savings totaling less than their annual income.
NIRS Executive Director Diane Oakley explains the root of the problems and potential solutions:
Two recessions and a prolonged economic recovery have made a difficult retirement outlook even worse. Employers have dialed back on workplace retirement plans, while many households struggle to save as they cope with higher living expenses and stagnant wages. Left unaddressed, the twin challenges of low access and low savings likely will result in grave consequences. We can expect substantial increases in public assistance costs, and even greater demands on strained families and social service organizations to help older Americans who just can't make it on their own. The data is grim, but I want to be as optimistic as the kindergarten teacher who tells students they 'need improvement.' Retirement policy can improve with reforms in three areas to help all Americans and encourage greater savings: 1) strengthen Social Security, 2) expand low- and middle-wage workers' access to retirement savings via payroll and 3) expand the incentives of the existing Saver's Credit.
Key findings in the report include:
More than 38 million working-age households do not have any retirement account assets.
Families who do have retirement accounts tend to have significantly higher income and wealth.
The average working household has little or no retirement assets, with a median account balance of $3,000. For near-retirement households, the median is $12,000.
Some 92% of working households are beneath the conservative retirement savings targets for the age of the workers who live in that household.
The report's author, Nari Rhee, manager of research for NIRS, says:
Our findings confirm that the American Dream of retiring comfortably after a lifetime of work will be impossible for many.
The report provides further support that it's time to discuss increasing Social Security benefits, which the AFL-CIO Executive Council called for more than a year ago, so that everyone can retire in dignity.
Read the full report.