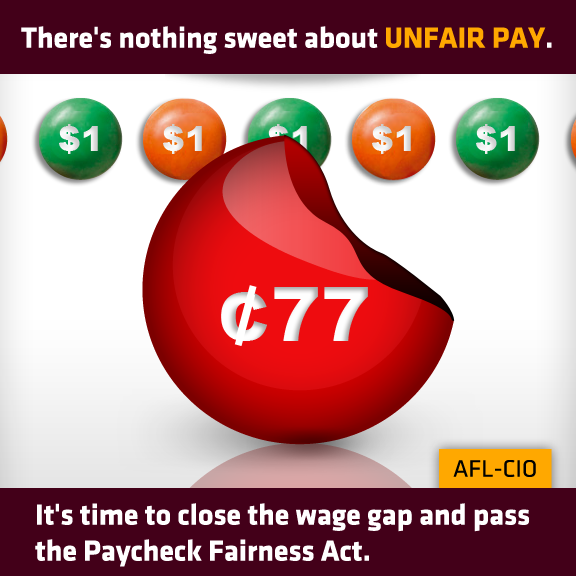 With the 50th anniversary of the Equal Pay Act coming up June 10, equal pay advocates will be on Capitol Hill tomorrow to tell lawmakers it's time to strengthen equal pay laws and fulfill the promise of the landmark 1963 Equal Pay Act by passing the Paycheck Fairness Act (S. 84/H.R. 377).
Fifty years after President John F. Kennedy signed the Equal Pay Act, women still earn an average of just 77 cents on the dollar compared to men's earnings. For African American women, that number is 64 cents. For Hispanic women, that number is even lower at 55 cents. That's why equal pay activists will be passing out packages of red candy-coated chocolates printed with the 77-, 64- and 55-cent figures. They chose the color red because, as Carol Rosenblatt, executive director of the Coalition of Labor Union Women (CLUW), explains, "The wage gap puts women in the red."
The Paycheck Fairness Act will close loopholes and strengthen current equal pay laws, including strengthening penalties that courts may impose for equal pay violations, and prohibit retaliation against workers who inquire about or disclose information about employers' wage practices. The bill also would require employers to show pay disparity is truly related to job performance—not gender.
The lobby day kicks off at 9:30 a.m. EDT in room 234 of the Cannon House Office Building. We'll bring you more on the action tomorrow.
Make sure to wear red tomorrow in solidarity and follow the action online using the hashtag #EqualPay.