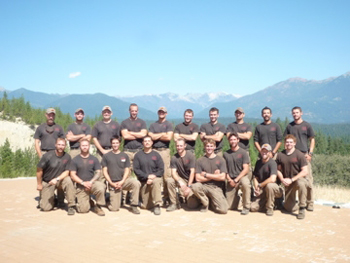 Nineteen Arizona fire fighters, 18 from an elite wildfire unit, were killed Sunday in an out-of-control blaze about 80 miles north of Phoenix. The members of the Prescott Fire Department's Granite Mountain Interagency Hotshot Crew team were dispatched to the front lines of the Yarnell Hill fire to establish a fire line to try to slow fire that reportedly had wind-driven flames as high as 20 feet.
Says AFL-CIO President Richard Trumka:
Our thoughts and prayers are with the families and loved ones of the brave heroes we lost in Arizona. It is a terrible tragedy even for the heroes who willingly put their life on the line every day for our safety.
Fire Fighters (IAFF) President Harold Schaitberger said the 19—who averaged just 22 years of age—"made the ultimate sacrifice in protecting the communities they serve."
When a tragedy like this strikes, all we can do is offer our eternal gratitude to the fallen and prayers for the fire fighters who continue to work side-by-side in what are, by any measure, hellish conditions. At this time, the fire is now more than quadruple in size, as crews battle triple-digit heat and erratic winds in an effort to contain the blaze.
Arizona state forestry spokesman Art Morrison told CNN that "hotshot crews" are the firefighters "who actually go in and dig the fire line, cut the brush to make a fuel break. And so they would be as close to the fire as they felt they safely could."
According to the Arizona Republic, the 19 firefighters were found in an area that also had 19 fire shelters deployed. Some of the firefighters were inside their shelters, which are typically used as a last resort to withstand the fire if it overtakes them. Some of the crew members were found outside the shelters.
Schaitberger said an investigation is underway to determine how the tragedy occurred and " what we do know is that it was an unprecedented weather event that resulted in 'a wind blowout' in all directions."
As we mourn for those who have given their lives, we pray for the safety of hundreds more who are battling fires in the face in one of the worst heat waves in memory.
"We are devastated. We just lost 19 of the finest people you will ever meet," Prescott Fire Chief Dan Fraijo said.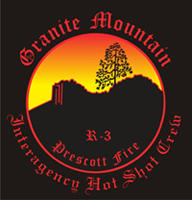 President Obama said in a statement Sunday:
They were heroes—highly skilled professionals who, like so many across our country do every day, selflessly put themselves in harm's way to protect the lives and property of fellow citizens they would never meet.
Sunday was the deadliest day for firefighters since the 9/11 attacks. It also was the deadliest wildfire since the 1933 Griffith Park Fire in Los Angeles killed 25 firefighters.