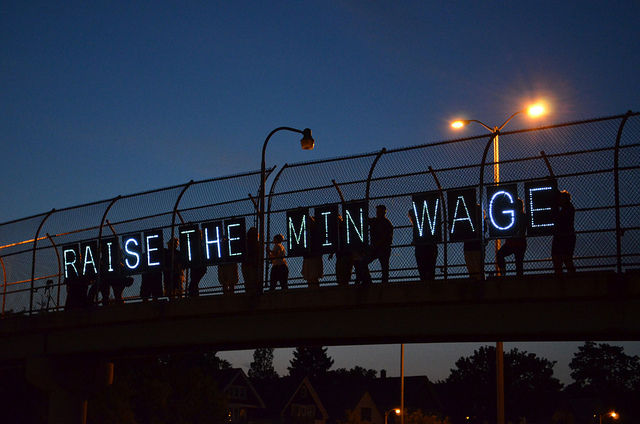 The federal minimum wage has been stuck at $7.25 an hour since July 24, 2009, and tomorrow, in a national day of action in more than 30 cities across the country, a broad coalition of labor, faith, civil rights, community and policy activists will call on Congress to raise the minimum wage.
The centerpiece of the action is the Fair Minimum Wage Act of 2013, introduced by Rep. George Miller (D-Calif.) and Sen. Tom Harkin (D-Iowa), to raise the wage to $10.10 and index it to inflation so it doesn't lose its value over the years. The bill also boosts the minimum wage for tipped workers.
Click here to sign our petition asking Congress to raise the minimum wage.
The Economic Policy Institute (EPI) estimates some 30 million minimum- and low-wage workers would see a rise in pay under the bill.
In addition to the actions taking place in cities all over the United States, many of which will be aimed at low-wage fast-food restaurants, a tweetchat—using the hashtag #RaiseTheWage—is scheduled for 2 to 3 p.m. EDT. Also tomorrow, members of Congress, business leaders, low-wage workers and advocates will release the most recent poll that examines voters' attitudes on raising the minimum wage.
We will bring you reports on the actions. Meanwhile, make sure you take a look at Stephen Colbert's take on the minimum wage.