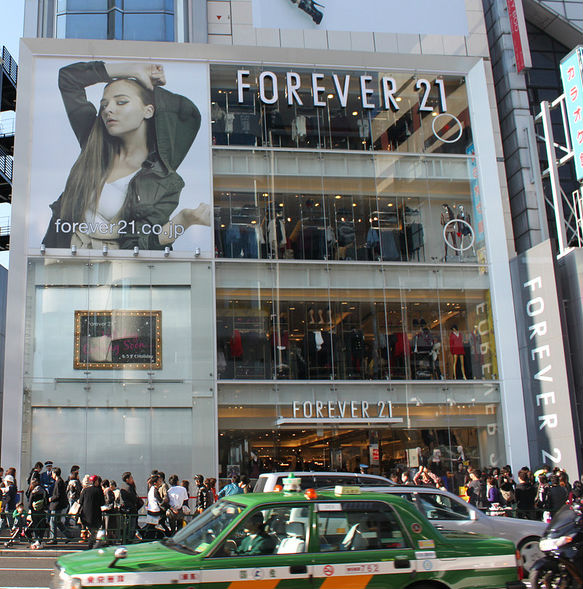 A group of workers at the mall fixture Forever 21 clothing stores might be stuck forever in poverty without health insurance and paid time off now that execs at the trendy youth fashion chain have decided to reclassify some of the full-time sales, stock and maintenance workers, along with cashiers and other store employees, as part-time workers, allowed just 29.5 hours of work a week.
The outrage over the cold, corporate move is flooding the Forever 21 Facebook page, with most vowing never to shop at Forever 21—well, forever.
In a letter straight out of the heartless H.R. handbook, the workers are informed that the move to part-time work means their health care, vision, dental and other coverage ends Aug. 31 and accrual of paid time off ends Aug. 18, the same day their full-time employment ends. This also means their spouses and family will also lose health care coverage.
While the company denies the move has anything to do with evading a provision of the Affordable Care Act, which requires large employers such as Forever 21 to provide health care coverage for employees working more than 30 hours a week, and claims this will only affect 1% of its workers, the 30-minutes from health care coverage workweek limit is darn suspicious.
Here are some samples of what Forever 21 shoppers are telling the company:
Absolutely disgusted at your treatment of your staff. Underemployment and a lack of benefits to already underpaid staff base is abominable behavior. Especially for a company that made more than $3.4Bn in revenue out of low-cost, mass-produced products in 2012. Ugh.—Hannah Chester
Groceries or healthcare? You decide. If you work at F21 you can't afford both on 29.5 hours a week! And I'll bet you can't afford rent either, and god forbid you should get sick, cuz guess what? No more sick pay. Guess who won't be shopping here anymore? That's right, ME. Shame on you F21.—Cathy Edens
Cutting back employees' hours because you don't want to pay for their health insurance, while your executives earn millions and have great health insurance? Not shopping at your stores anymore!—D.M Rodriguez
Forever 21 has been responding to comments on its Facebook page with this canned response:
[Insert name here], thank you for reaching out. Forever 21, like all retailers, staffs its stores based on projected store sales, completely independent of the Affordable Care Act. After a recent evaluation, Forever 21 realigned its staffing needs to better reflect sales expectations. This realignment impacted less than 1% of all U.S. store employees. Forever 21 values all of its employees and made every effort to affect as few employees as possible in this realignment.
What do you think about Forever 21 cutting full-time workers to part-time status and ending their health care coverage and paid days off?