While business is booming in the Maine lobster industry, significant concerns have driven the men and women who catch the delicacy organizing the industry's first union. This past Sunday, the new organization—the Maine Lobstering Union—held its first official meeting, nominated officers and members paid their first dues.
"It was time. I've been talking this talk for a long time, but the timing of what happened last year, and the excuses we got for our terrible prices was too much for me," Magnus Lane, a lobsterman, told Fox 22 News in Bangor.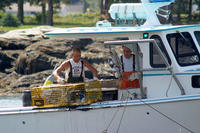 The low prices the lobster fishermen and women receive for their product and the seasonal nature of the catch is a particular concern, which leaves many struggling during the cold winter months when lobsters are scarce. Members of the Maine Lobstering Union are also concerned by laws being passed to regulate the industry by those in the state legislature, often without consulting the actual workers affected by the regulations.
Watch a video of the first meeting above..