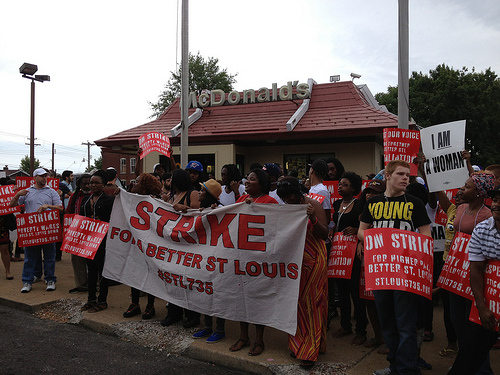 Thousands and thousands of fast-food and other low-wage workers this week have walked off the job in a series of one-day strikes in cities across the country. They are demanding a living wage, no retaliation for striking and the right to join unions. Those strikes are continuing today and likely into next week too.
In Detroit, Claudette Wilson works two part-time jobs, one at Burger King, where she makes $7.40 an hour, and the other at Jep's Pizza. She told MSNBC:
A lot of times we've been understaffed, so I had to do multiple positions, long shifts, for the same amount of money [without overtime]. At 40 weeks in a year, that's supposed to be $15,000, right? Is that a lot of money to you? That's if you get 40 hours a week. Now a lot of people don't get 40 hours.
On Thursday in Chicago, Subway worker Felix Mendez, who makes just $8.25 an hour despite two years on the job, said:
I'm striking because I can't afford to provide my family with the basics. I serve food all day long but I have to work two jobs so my children don't go hungry.
In the Windy City—as in other cities—low-wage workers at a wide range of businesses joined the strike, including those from Macy's, McDonald's, Wendy's, Forever 21, Potbelly, Sally Beauty Supply, Bed Bath & Beyond, Chick-fil-A, Nordstrom Rack, Caffè Baci, Nike, Protein Bar, Mrs. Fields, Sears, Jason's Deli and Victoria's Secret.
Jonathan Westin, executive director of New York Communities for Change, part of the coalition organizing the actions, told The New York Times:
Things are going phenomenally. Workers all over the country are taking action in an industry where there had literally been no action or traction a year ago.
The strikes are being organized and supported by a wide coalition of labor, faith and community groups, including SEIU, Jobs with Justice, 99 Pastors and others.