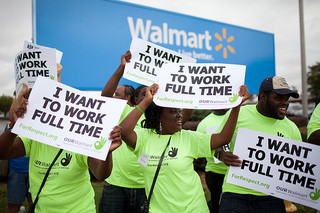 Walmart reported last week that sales at its U.S. stores had unexpectedly declined. Walmart tried to explain its shrinking sales away by citing outside factors such as higher gas prices and payroll taxes.
But, say many market observers, the real cause lies within Walmart itself—the largest private-sector employer in the United States and the poster child for low-wages.
Daniel Gross at The Daily Beast says, "This isn't complicated. Or, rather, it shouldn't be complicated." He writes:
By paying low wages, Walmart is effectively limiting the ability of a large chunk of the American workforce to consume. By setting a low benchmark, it encourages other employers to do the same. The sorts of people who make up Walmart's core shopping constituency are the sort of people who work there. Were they to earn more income, they'd surely spend more at stores—including Walmart. Since they don't, they don't.
Along with the low wages, keep in mind Walmart and a growing number of other employers keep large chunks of their workforces on part-time status and have cut back the hours of full-time workers. Don't forget the lack of affordable health care coverage. In other words, there's less money for workers to spend outside of bare family necessities.
Edward Jones analyst Brian Yarbrough told Reuters, "That low-income customer is really struggling now, and that's hitting Walmart."
John Marshall, a senior analyst for the United Food and Commercial Workers (UFCW) capital stewardship program, told the New York Post:
The company is left facing a core customer challenged by many of the economic forces Walmart itself has unleashed on low-income worker/consumers.
Here's another voice that gets to the heart of Walmart's sales decline. Larry Born has worked at the Walmart in Crestwood, Ill., for three years and is a member of the Walmart worker group Our Walmart. He says the sales numbers "make it clear that Walmart's labor practices aren't just hurting workers like me—they're also hurting business."
But he also has some sound fiscal advice for Walmart.
If Walmart wants to reverse these trends, the company should start by listening to its associates. With $16 billion in profits every year, Walmart can easily afford to increase pay and access to full-time hours so that we can make our stores great places to shop and so that every Walmart worker can support their family—without relying on public assistance. These commonsense changes will help repair the company's image, lift its bottom-line and strengthen our entire economy.