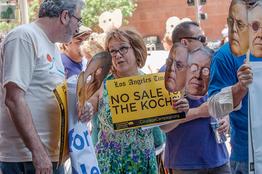 Right-wing, extremist billionaire brothers Charles and David Koch have ended their pursuit of the Los Angeles Times and other Tribune Co. newspapers after months of protests by community groups, journalists and other free press advocates.
Art Pulaski, executive secretary-treasurer of the California Labor Federation, called the decision by the Kochs to abandon their efforts to buy the Tribune properties, "a major victory for proponents of a free and democratic press."
For months, the California Labor Federation, media watchdogs and progressive groups have raised serious concerns about the effect of handing control of major news outlets over to the Kochs. The Kochs' interest in the Tribune Co. was no doubt fueled by a desire to further their anti-worker, anti-environment agenda by using those media outlets as a megaphone for their extreme ideas.
The Kochs fund a number of extreme right-wing organizations and are major contributors to the tea party and bankrollers for a host of anti-worker state ballot initiatives and legislation.
Eddie Kurtz of the Courage Campaign, which organized several protests against the sale of the newspapers to the Kochs, told the Los Angeles Times:
We think it's a victory for the people of Los Angeles, the people of California and the people of any city in which Tribune has a newspaper. We think it's a victory for independent news itself.