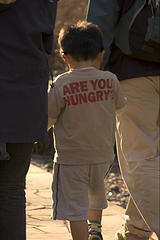 House Republicans are set to take the food off the table for millions of low-income people, with huge cuts to the food stamp program, under a bill they are pushing toward a vote this week, likely Thursday or Friday.
The $40 billion in cuts to the Supplemental Nutrition Assistance Program (SNAP) are part of the farm bill reauthorization and would result, according to estimates from the Congressional Budget Office (CBO), in 1.7 million people forced off the rolls in the coming year and another 2.1 million dropped in 2014. The Center on Budget and Policy Priorities (CBPP) puts the figure at 4 million to 6 million.
Rep. Rosa DeLauro (D-Conn.) told a Capitol Hill press conference Tuesday:
It would be immoral to ratify a $40 billion cut in the food stamp program....That is not where our moral responsibility lies. It is wrong and it should not happen.
The AFL-CIO, in a letter to Congress, urged representatives to oppose passage of this "cruel legislation."
The Nutrition Reform and Work Opportunity Act of 2013 would deny millions of children, seniors, people with disabilities, low-income and unemployed Americans food assistance during a prolonged period of anemic job growth, declining or stagnant wages and growing income inequality.
In 2011, SNAP lifted 4.7 million of America's working families out of poverty and eased poverty for tens of millions of others. SNAP helps low-wage working parents, seniors on fixed incomes, people with severe disabilities and adults who are unemployed or underemployed. Who gets food stamps? According to Feeding America:
76% of SNAP households included a child, an elderly person or a disabled person. These vulnerable households receive 83% of all SNAP benefits.
SNAP eligibility is limited to households with gross income of no more than 130% of the federal poverty guideline, but the majority of households have income well below the maximum: 83% of SNAP households have gross income at or below 100% of the poverty guideline ($19,530 for a family of three in 2013), and these households receive about 91% of all benefits. 61% of SNAP households have gross income at or below 75% of the poverty guideline ($14,648 for a family of three in 2013).
The average SNAP household has a gross monthly income of $744; net monthly income of $338 after the standard deduction and, for certain households, deductions for child care, medical expenses and shelter costs; and countable resources of $331, such as a bank account.
Rob Zeaske is CEO of Second Harvest Heartland, a food bank in St. Paul, Minn., that provides food to some 1,000 soup kitchens, food shelves and other providers in Minnesota and Wisconsin. He told USA Today that if SNAP cuts go into effect:
We will see more neighbors more deeply in poverty and more deeply in need of our services.
While House Republicans, especially in this tea party era, have tried to slash and eliminate vital working family programs and worker protections, House Minority Leader Nancy Pelosi (D-Calif.) told reporters:
Even for what we have seen again and again, opposing minimum wage and other issues that help working families in our country, this is a new low.
Politico reports that House Majority Leader Eric Cantor (R-Va.) is "the driving force" behind the $40 billion food stamp cut.
Pat Garofalo of U.S. News and World report writes:
Food stamps are a vital lifeline to millions who are struggling to stay afloat in a weak economy. That we're considering cutting food stamps at all when unemployment and poverty are high while incomes are stagnant is terribly depressing. But a $40 billion cut would simply be cruel.