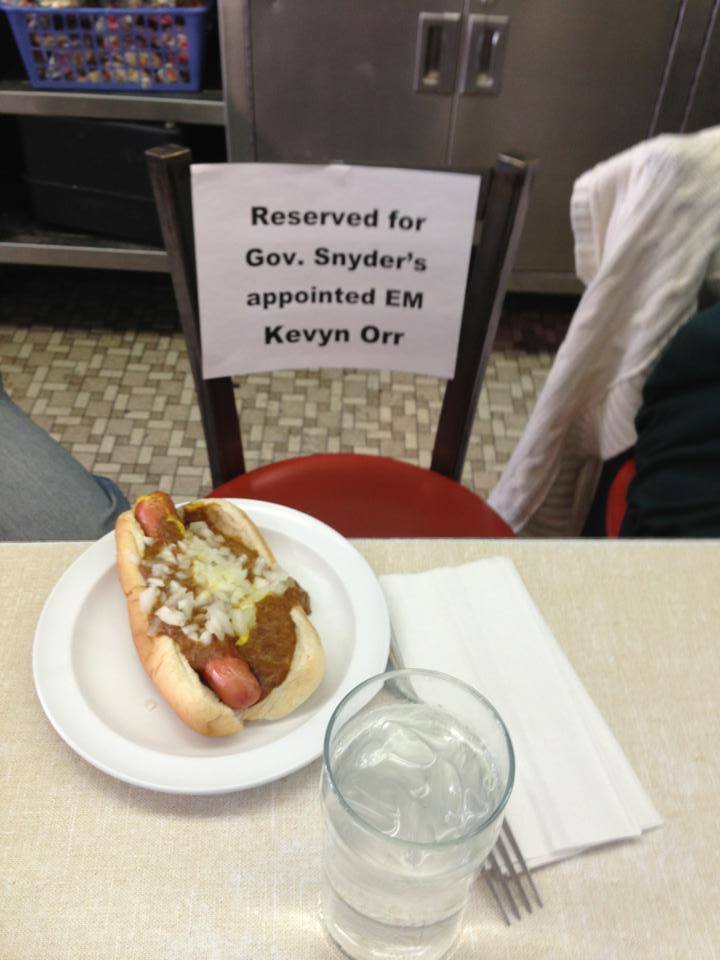 It wasn't crab cakes and calamari delivered via room service to his tony penthouse paid for by Michigan Gov. Rick Snyder's (R) "secretive nonprofit foundation," but Kevyn Orr, Detroit's so-called emergency manager overseeing the city's bankruptcy, turned down an offer of a free lunch.
Maybe he doesn't have the taste for a down-home chili dog, but it's more likely he didn't have the stomach or backbone to dine with the retired city workers who invited him to lunch Monday. The retirees face "significant cuts" to pensions. There are some 21,000 retired public employees—with average pensions of about $19,000.
Derrick Holmes, a cancer survivor who retired from the Detroit Fire Department in July, is one of the retirees who invited Orr to meet at the Lafayette Coney Island to express his concern about the future and frustration over the way that the retirees are being treated. He says:
I love our city. I have lived here for 47 years, and I served as a firefighter for 36. It is already tough to get by on my pension. If I have to take a reduction or start shopping around for health insurance, I don't know how I'll get by.
Certainly not as well as Orr will on his $275,000 salary paid for by the state and his luxurious suite at the Westin Book Cadillac, that the Detroit Free Press reports is paid for by Snyder's NERD Fund, which stands for New Energy to Reinvent and Diversify Fund.
The NERD Fund, which raises money from private donors who are not legally required to disclose their identities, has come under scrutiny because of its role in funding the governor's operations. For example, the organization is funding the salary of Snyder adviser Rich Baird, who helped recruit Orr to serve as emergency manager.
AFSCME and other Detroit unions are challenging the city's claims in U.S. Bankruptcy Court, and Judge Steven Rhodes is expected to rule on the city's eligibility for bankruptcy protection later in the fall.
By the way, if you haven't seen it yet, click on over to GIFtroit for a unique explanation of Detroit's bankruptcy.