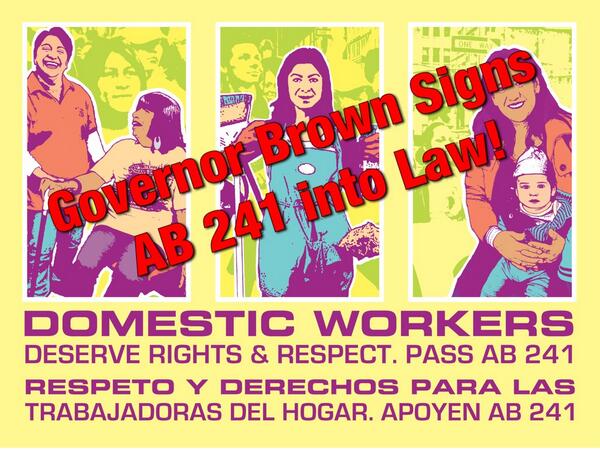 After seven years of organizing and two vetoes, California domestic workers finally got some good news today as Gov. Jerry Brown (D) signed the Domestic Worker Bill of Rights into law.
Brown tweeted a picture with a group of domestic workers right after he signed the bill:
Today, I signed a bill to help California's domestic workers. #AB241 pic.twitter.com/DRIBMjzYzw

— Jerry Brown (@JerryBrownGov) September 26, 2013
The California Domestic Worker Bill of Rights, AB 241, will end generations of exclusion from basic labor protections, reports the the National Domestic Workers Alliance (NDWA). The second measure of its kind in the country, "the California Domestic Workers Bill of Rights will protect a vital workforce that has labored in the shadows without protections for too long." It will provide housekeepers, child care providers and caregivers with overtime pay after nine hours of work in a day or 45 hours of work in a week.
See more details on the bill here.
Ai-jen Poo, director of NDWA, sent the following tweet on the victory:
Cannot stop crying tears of joy & pride. After 7 years of hard work & two vetoes, finally a victory for domestic workers in CA #AB241

— Ai-jen Poo (@aijenpoo) September 26, 2013
NDWA is asking people to send Gov. Brown a thank-you note on Twitter @JerryBrownGov or on his Facebook page.
In an email to campaign supporters, NDWA wrote:
This beautiful victory, which will have a real impact on the lives of hundreds of thousands of women in California, would not have been possible without your unwavering support. Your emails, calls and social media posts made the difference in our long journey toward justice for domestic workers in California.