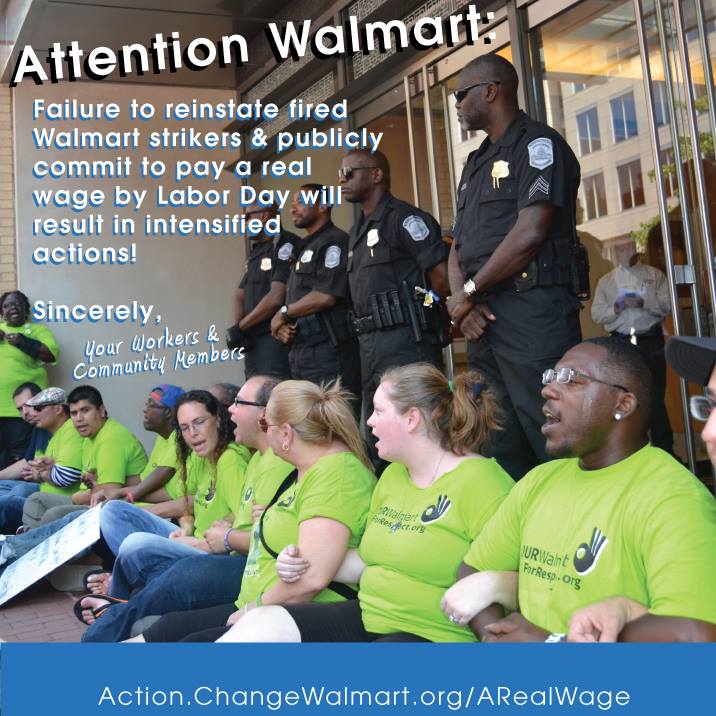 The growing group of Walmart workers across the country who are demanding justice and a decent wage gave the giant retailer a Labor Day deadline to meet their demands or face intensified and widespread actions.Walmart didn't, so starting Thursday Walmart workers will mount a wide wave of actions.
Since Walmart workers began speaking out last fall through strikes and other actions spotlighting Walmart's miserably low-wages, benefits, poor working conditions and, what they say is, abusive treatment by management, they've paid a price.
According to the worker group Our Walmart, 20 workers were allegedly fired and another more than 50 disciplined after they took part in a strike against the retail giant in June. Reinstatement of those workers and increased wages are the key demands.
In Washington, D.C.,last month nine workers who lost their jobs at Walmart after participating in a strike and one current employee held a sit-in in Walmart's Washington, D.C., offices. The 10 were arrested for their civil disobedience.
One of those arrested workers, Brandon Garrett, who says he was fired after taking part in a June strike that included a demonstration outside Walmart's Bentonville, Ark., headquarters, says:
We're not backing down…it's time to draw a line in the sand. Let's send Walmart a clear message: If you fail to act by Labor Day, actions will intensify around the country.
Read more about Garrett. See profiles of other fired Walmart workers here and here.
Show your support for Walmart workers by signing a petition calling on Walmart to respect workers' rights and pay a living wage. Find out more at Our Walmart and at Making Change at Walmart.