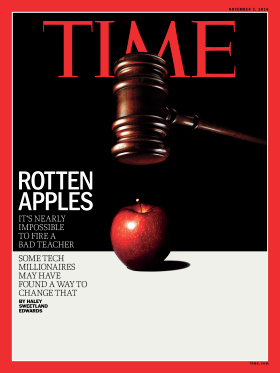 The cover of Time magazine's forthcoming Nov. 3 issue shows a pretty significant misunderstanding of an important issue when it attacks teachers, blaming them for the problems in America's schools. The cover is featured already on Time's website, and soon it will be in every supermarket checkout line and newsstand in the country. AFT is calling the magazine to task for the cover and has launched a petition demanding that Time apologize for the cover.
AFT notes that the cover doesn't reflect the content of the issue, which presents a more balanced view of the issue, and instead represents the agenda of wealthy interests who want to take due process away from teachers. Millions of Americans will not read the more even-handed coverage inside the magazine and will be misled by the cover.
AFT President Randi Weingarten described her response to the cover:
When I saw this today, I felt sick. This Time cover isn't trying to foster a serious dialogue about solutions our schools need—it's intentionally creating controversy to sell more copies....
The millionaires and billionaires sponsoring these attacks on teacher tenure claim they want to get great teachers into the schools that serve high-need kids. It's a noble goal, but stripping teachers of their protections won't help.
In fact, this blame-and-shame approach only leads to low morale and high turnover, making it even harder to get great teachers into classrooms. Just today, constitutional scholar Erwin Chemerinsky wrote a fact-based argument that tenure protections help recruit and retain high-quality teachers! In fact, there is a strong correlation between states with strong teacher tenure and high student performance.
Sign the petition and tell Time that we need a real debate on issues surrounding education and that they should apologize for using sensationalism to sell magazines. That's what our students, and teachers, deserve.