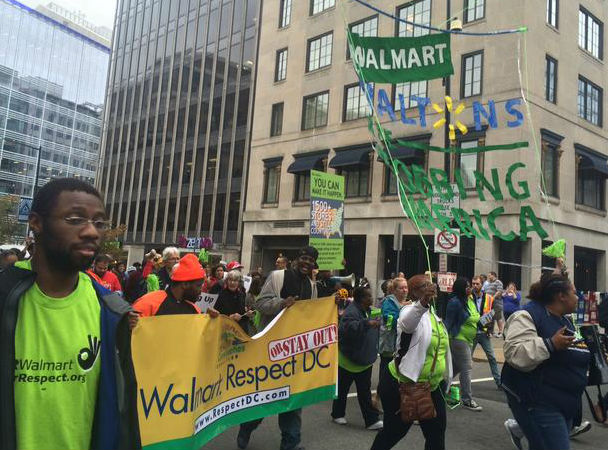 Walmart workers, many who earn poverty-level wages and have irregular and part-time hours, have mobilized for justice and fairness at Walmart over the past few years and now are calling on Walmart to end retaliation against workers who are speaking up for better pay and working conditions. Now, workers' allies in communities around the nation are joining them in massive demonstrations on Black Friday (Nov. 28), the biggest shopping day of the year.
You can make your voice heard and show your support for Walmart workers by telling the Waltons you stand with Walmart workers and you will join a Black Friday action near you.
Workers have been calling on Walmart for $15 an hour and full-time hours. To put the workers' demands in context, income inequality is the highest it's been since 1928. Corporate profits are at an all-time high. Meanwhile, wages are at the lowest point since 1948—even as productivity increases.
No one family is driving this trend quite like Walmart's owners, the Waltons. The Walton family is the richest family in America, with nearly $150 billion in wealth and as much money as 43% of American families combined. And yet, most Walmart workers make less than just $25,000 a year.
Show your support and sign up for Black Friday protest near you today.