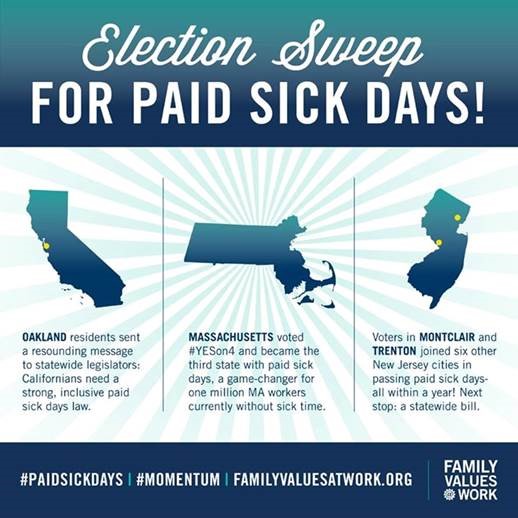 In an election night that was rather disappointing for working families and their candidates, one bright spot was the success of several state ballot initiatives dealing with some core worker issues, including wages, equal pay, education and paid sick leave. Here's a quick look:
Voters approved increases to the minimum wage in Alaska, Arkansas, Illinois, Nebraska and South Dakota, as well as Oakland and San Francisco, Calif.
In victories for working women and families, voters in Oregon approved the Equal Pay Measure and in Massachusetts a measure calling for up to 40 hours a year of paid sick leave for employees was approved. Paid sick leave measures in Oakland, Calif., Montclair and Trenton, N.J., also won.
Measures to strengthen voting right were approved in Missouri, Montana and Illinois.
New York voters passed Proposal 3, an education funding initiative, and in Missouri, Amendment 3, which would have weakened due process for teachers and would take local control of schools away from parents, teachers and school districts, was defeated.
In Anchorage, Alaska, voters defeated AO-37, which would have introduced "right to work" for less measures in the city and prevented collective bargaining for city employees.
California voters also struck a blow to unfair laws and passed Prop. 47, dealing with mass incarceration and unfair sentencing for nonviolent crimes.
Important tax and budget ballot initiatives won approval in Alaska, Illinois and North Dakota.
Transportation funding measures were approved in Maryland, Rhode Island and Wisconsin. Clayton County, Ga., voters approved a contract with public transportation provider MARTA.
Later today, we'll have reaction to yesterday's results where Republicans took control of the U.S. Senate along with wins in several governors' races and any results in races that are still undecided.