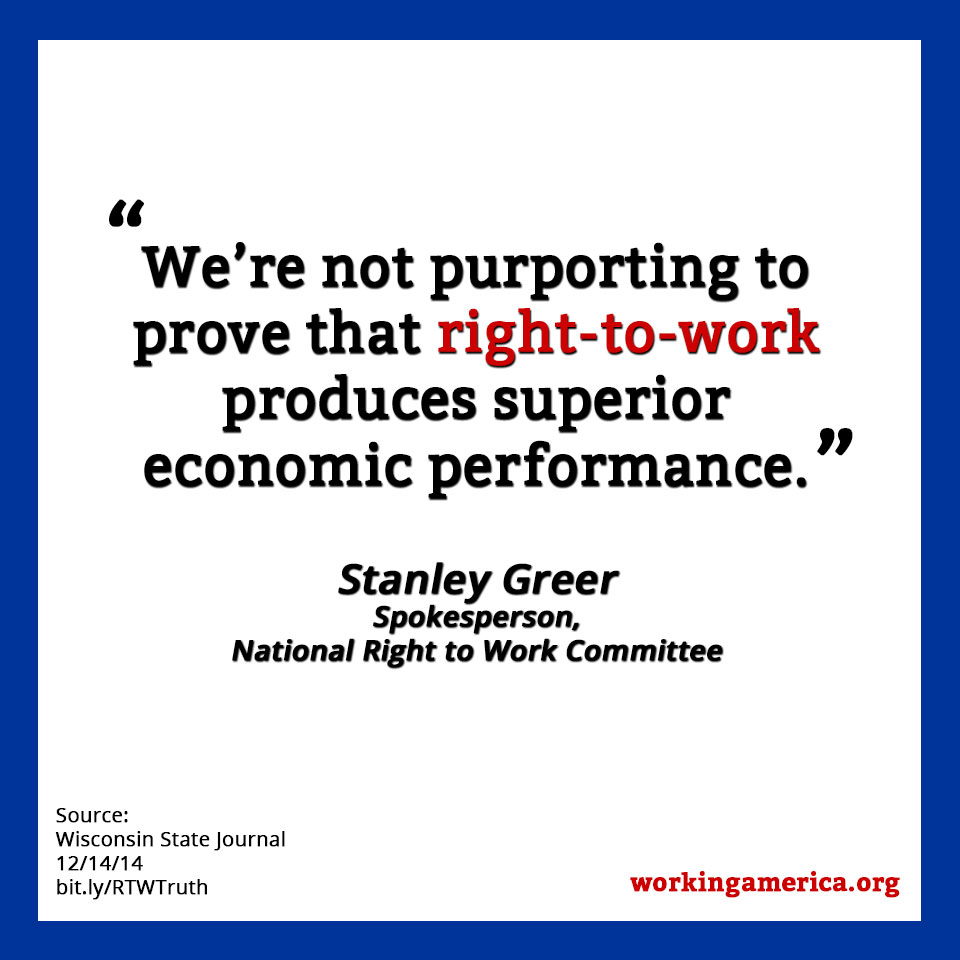 In Warren County, Ky., a fiscal court has given preliminary approval to a local "right to work" for less ordinance. The measure is worded as to prevent any worker covered by the National Labor Relations Act from being required to join or pay dues to a union as a condition of employment. Since it is already illegal in the United States to require workers to join unions, the real focus of the measure is to weaken workers in negotiations with employers for decent wages and benefits. Instead of passing illegal ordinances that are a big waste of time and resources for the county, those efforts should be spent in other ways like focusing on raising wages for Warren County residents.
If you're in Kentucky, call the fiscal court today and tell them you oppose the right to work ordinance: 1-855-721-3304.
Here are seven specific ways that this measure would hurt workers in Warren County, most of which would apply to workers in other Kentucky locales (and elsewhere) if the process were repeated elsewhere:
1. It's illegal and will create an administrative nightmare: A Kentucky court already has said that right to work laws can only be made at the state level. If it goes into effect, it will lead to legal wrangling and make compliance very difficult for companies that work in more than one Kentucky county.
2. The law is being pushed by rich extremists from out of state: The Bluegrass Institute, a Kentucky "think tank," that is pushing local right to work laws like this one receives massive amounts of funding from out-of-state interests that won't be affected by the negative impact of such laws on Kentuckians. A shadowy network of groups, many of them connected to the American Legislative Exchange Council (ALEC), the D.C.-based Heritage Foundation, and the billionaire Koch Brothers, pushes these laws across the country, with little concern about the local impact and without revealing their funding and broader agenda.
3. The law is being advanced with little input with a high level of secrecy: On Dec. 11, the court voted to pass the law. The right to work measure was part of a bill called Promotion of Economic Development and Commerce for Warren County and it was handed out 15 minutes before the vote, a vote that was held 19 out of 20 during the meeting. Where was the public input? Who proposed the measure? Who supported it? What economic impacts would it have on workers? Were any questions asked or answered during the process?
4. It hurts working families: There is a pattern of right to work laws decreasing wages, lowering household income, increasing poverty, undermining workplace safety and failing to improve access to health care.
5. These laws don't actually boost the economy: A significant body of research backs that claim, and even some conservatives, such as Stanley Greer, a spokesperson for the National Right to Work Committee, have admitted it: "We're not purporting to prove that right to work produces superior economic performance."
6. Voters don't want it: In November, Kentucky voters rejected candidates funded by out-of-state interests with extreme agendas, including right to work.
7. Kentucky residents have other priorities: The state's hardworking families need a raise, more good jobs and more investment in education. This measure will accomplish none of that.