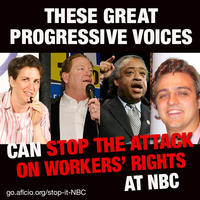 Peacock Productions workers are heading to NBC's headquarters, "30 Rock," on Thursday to deliver petitions to MSNBC hosts, including Rachel Maddow, Ed Schultz, the Rev. Al Sharpton and Lawrence O'Donnell, asking them to meet with the workers and stand with the workers who are seeking union representation on the job.
As we've reported before, NBC production workers have been trying to form a union for a more than a year with the Writers Guild of America, East (WGAE). But Peacock Productions, a subsidiary of NBC, has not acted in good faith in negotiations. Chris Hayes met with the workers in December but no other MSNBC host has done the same.
Salon's Josh Eidelson writes:
"Frankly," said Writers Guild of America–East Organizing Director Justin Molito, "if we don't have people overcoming their personal fears and speaking out that are in such high-profile positions as MSNBC hosts, what does that say about the climate of fear at NBC?"
Peacock Productions workers and fellow WGA-E activists plan to show up at 30 Rock on Thursday with petitions addressed to five MSNBC anchors: Rachel Maddow, Lawrence O'Donnell, Al Sharpton, Ed Schultz and Chris Hayes. Molito told Salon the activists will ask for the hosts to be paged to come downstairs and personally receive the letter, which was backed by the AFL-CIO and hosted by MoveOn, and now boasts 10,000-some supporters.
Maddow, O'Donnell, Sharpton, Schultz, Hayes and NBC did not respond to Friday inquiries, or to past requests for comment on the Peacock Productions dispute.
Support the NBC production workers by helping them get to 15,000 signatures on their petition here.