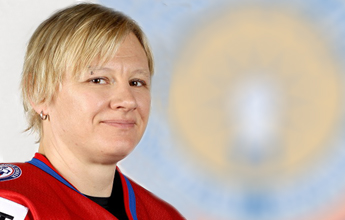 This is a cross-post from the Electrical Workers (IBEW).
Ekaterina Pashkevitch is taking to the ice in Sochi, Russia, this week, playing center for the Russian women's Olympic hockey team.
And halfway across the world in central Massachusetts, her brothers and sisters from IBEW Local 96 in Worcester are tuning in to root her on.
When not in skates, Pashkevitch, known as Kat, works as a journeyman electrician. Born in Moscow, she moved to Massachusetts in 1994 after visiting the area during a North American tour with the Russian team.
She became a U.S. citizen soon after.
She began skating at the age of three, and soon became one of the best women players in Europe. Kat started competing at an international level in the mid-90s, leading Russia to two medals in International Ice Hockey Federation championships, and was named MVP multiple times. Sochi marks her third Olympic appearance.
After coming to the United States, she remained involved in women's hockey, coaching the Massachusetts Institute of Technology's women's team for two years.
Despite her hockey success and impressive educational background, Kat found it hard to make ends meet in America.
"When I got back after the 2006 Olympics I was broke, I had no money," she told the Worcester Telegram and Gazette. "I had to work minimum wage jobs."
She was doing maintenance work at a local motel, when her manager noticed she had a knack for electrical work. He suggested she check out the IBEW.
"Kat does a great job," said Local 96 Business Manager Leo E. Miller Jr. "She works very hard, and at the worksite she's just one of the guys."
She is one of the few women in the local, but Kat is experienced with knocking down gender barriers. Her parents were shocked when she told them she wanted to play on the boy's hockey team, as she told Women's Hockey Web in 1997.
"It was very weird for girls to play hockey, or play with boys at all," she said.
In 1993, she became a charter member of Russia's first-ever women's team.
Miller asked Kat why she didn't try getting a full-time coaching position. "She told me she loves the work and being outside," he said.
At 41, she's the oldest player to play women's Olympic hockey and admits competing against players half her age is a challenge.
"I don't have the energy and skill level I used to, but I used my experience and knowledge of the game," she told the Telegram and Gazette.
Russia beat the German team Feb. 9 and is scheduled to play Japan on Feb. 11.