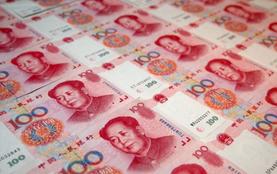 If the United States acted forcefully to end currency manipulation by China and other nations—and there is legislation to provide the government the tools to do so—it could create as many as 5.8 million jobs (40% in manufacturing) and reduce the nation's trade deficit by as much as 72.5%, according to a new report from the Economic Policy Institute (EPI).
Currency manipulation is the largest single cause of the U.S. trade deficit, and the Chinese government is the world's biggest currency manipulator. It deliberately keeps the value of its currency artificially low and that artificially raises the price of U.S. exports to China and suppresses the price of Chinese imports into the United States. This artificial price advantage is one of many pull factors that encourages U.S. businesses to shut down operations here and manufacture in China instead. Says AFL-CIO President Richard Trumka:
U.S. workers can compete with anyone in the world, but they cannot compete successfully on a lopsided playing field. [Currency manipulation] is a major contributing factor in our lopsided trade relationship with China. Meanwhile, U.S. manufacturing companies and workers bear the brunt of these unfair policies.
The EPI report finds that:
Eliminating currency manipulation would reduce the U.S. trade deficit by $200 billion in three years under a "low-impact" scenario and $500 billion under a "high-impact scenario." This would increase annual U.S. GDP by between $288 billion and $720 billion (between 2.0% and 4.9%).
The reduction of U.S. trade deficits and expansion of U.S. GDP would create 2.3 million to 5.8 million jobs, reducing the U.S. jobs deficit by between 28.8% and 72.5%.
About 40% of the jobs gained would be in manufacturing, which would gain between 891,500 and 2,337,300 jobs. Agriculture also would gain 246,800 to 486,100 jobs, heavily affecting some rural areas.
Read the full EPI report here.
Bipartisan legislation in Congress (H.R. 1267 and S. 1114) would crack down on currency exchange rate manipulation and hold countries that manipulate their currencies accountable. Trumka says:
We call on Congress to fight on the side of American workers and domestic manufacturers and farmers to put an end to currency manipulation now.
While China is the largest currency manipulator, other nations do so, too. Japan, which is one the 12 TPP nations, (China is not involved) has been accused of weakening the value of the yen to benefit its auto industry.
Currently Japan exports some 130 cars to the United States for every car that U.S. automakers export to Japan. One of the major reason for that imbalance is currency manipulation says the UAW.
As a consequence of Japanese government currency intervention, in a market such as the United States, Japanese imports have seen several thousand dollars in effective subsidies while, at the same time, exports from the United States to Japan have seen several thousand dollars in added costs….The impact of these policies undermines American auto exports and American jobs and the investment they support.
Yesterday, Sens. Sherrod Brown (D-Ohio) and Sandy Levin (D-Mich.), both sponsors of S. 1114, said that without currency manipulation rules as part of the Trans-Pacific Partnership (TPP) trade and investment agreement and other pending trade agreements, Congress is unlikely to approve the trade bills. Says Brown:
The trade agenda is not moving until currency is part of it.
The Obama administration's is pushing to have the TPP agreement considered under Fast Track rules in Congress.
Under the Fast Track process, Congress can only vote yes or no on the full agreement. It cannot amend or improve the bill.
Sign the petition to Congress to stop bad Fast Track trade deals over the next four years, including the TPP.
Also, if you haven't signed a letter for a better TPP, do it here.