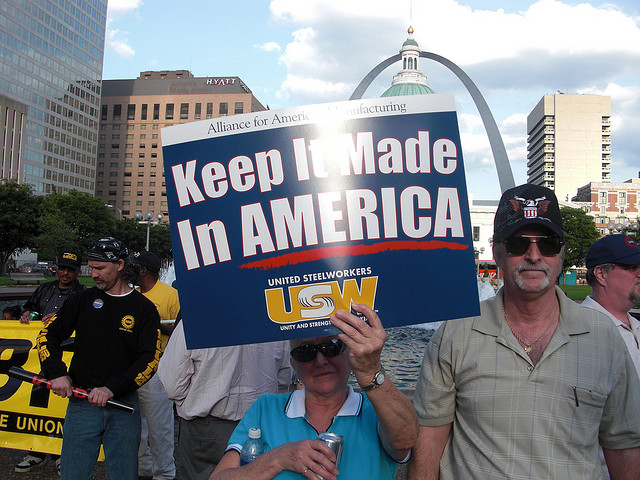 We're creeping up on that dreaded early spring deadline—tax day. While many of us look at the calendar and say April 15 is still weeks away, others—probably the same ones who turned in their term papers early—have already filed. But whichever group you belong to, there's one thing that helps ease the tax pain for many—the refund! While some of those checks will go to bills, mortgages or car payments, many of us will give the economy a boost by spending a good portion of that refund (and what better way to spend it than on union-made in America products).
Want more union-made products? Text MADE to 235246 (standard data and message rates may apply).
Here are some suggestions and links.
Cars and Tires
If you're thinking big, and your refund is good-sized—say down-payment sized—what better way to greet the spring than in a quality American-made car or truck. Whether you're looking for something for four-wheeling like a Jeep or upscaling such as Cadillac or Lincoln, check out these vehicles made by the UAW.
If you just need a smoother ride for your current car, here's our guide to union–made in America tires.
Home Appliances
Staying with bigger ticket items, this chart from our friends at Union Label and Service Trades Department (UL&STD) lists the model numbers for union-made General Electric washers, dryers, dishwashers, refrigerators, along with other home appliances. This article from Consumer Reports also has information on American-made appliances.
Sporting Goods
On the sporting side, you can take a look at MacGregor golf clubs, some Top-Flite golf balls, equipment from Standard Golf, Louisville Slugger, Remington and Colt firearms, among others. For the handy person around the house, Snap-on Tools and Channellock carry the union-made in America label.
Vacations and Travel
If you're looking to get away—especially those of you who have soldiered through one of the rougher winters that major parts of the country have seen, Union Plus offers some great made in America vacation and travel ideas and discounts. Visit UNITE HERE for a downloadable Union Hotel and Casino Guide.
Beverages
For those of you who might have small refunds or, heaven forbid, had to send a check to Uncle Sam, take a look at our recent union-made St. Patrick's Day for a list of union-made beers and whiskey and other spirits and here for union-made wines and champagne.
Some places to find more info on those and other products include, but are not limited to, Labor 411, Union Plus and the UL&STD.