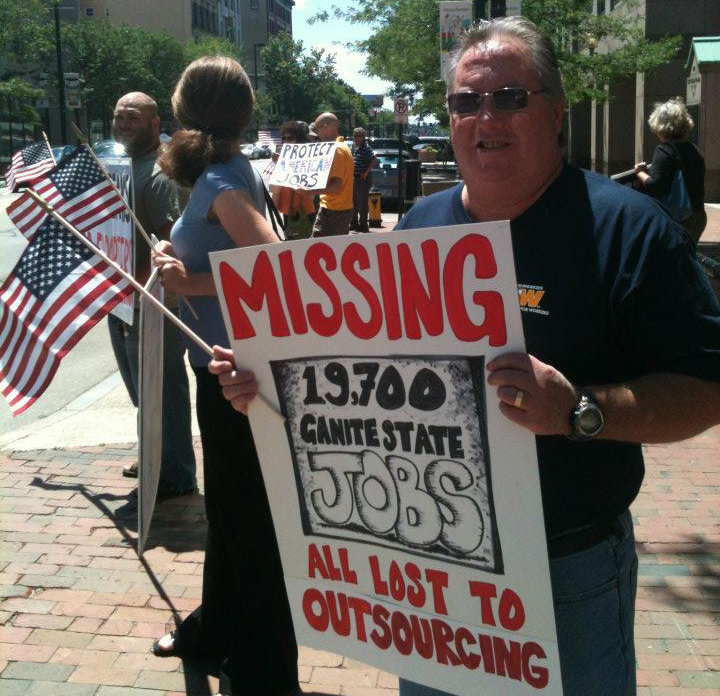 House Republicans are proposing another enormous tax break for corporations to outsource jobs. The latest Republican outsourcing plan is very similar to the one promoted by former Gov. Mitt Romney in the 2012 presidential campaign, which President Barack Obama said would cost 800,000 jobs.
The outsourcing plan was included in a "tax reform" proposal unveiled recently by the chairman of the House Committee on Ways and Means, Rep. Dave Camp (R-Mich.).
Poll after poll shows America's working families strongly oppose tax breaks for outsourcing that already exist under current law. This is hardly surprising, since between 1999 and 2010, U.S. corporations eliminated 1 million jobs in the United States while creating 3 million jobs overseas.
Here's how the House Republican plan would promote even more outsourcing: it would allow outsourcers to pay almost no U.S. taxes on their overseas profits when they send jobs overseas. To be precise, outsourcers would be taxed at a rate of 1.25% on most offshore profits. Obviously, if outsourcers can pay taxes at a lower rate when they send jobs overseas, they're going to have more of an incentive to outsource.
Here's how Obama described this terrible idea during the 2012 campaign:
"There's a new study out by nonpartisan economists that says Gov. Romney's economic plan would in fact create 800,000 jobs. There's only one problem: The jobs wouldn't be in America. They'd be in other countries. By eliminating taxes on corporations' foreign income, Gov. Romney's plan would actually encourage companies to shift more of their operations to foreign tax havens, creating 800,000 jobs in those other countries."
The technical name for this idea is a "territorial tax system." Why is it called "territorial"? Because the United States would only tax American corporations on their profits within the "territory" of the United States, not on their profits overseas.
A "territorial tax system" is a terrible idea for lots of reasons. As Obama explained during the 2012 campaign, it would encourage job creation abroad instead of at home, lowering U.S. wages in the process and opening up opportunities for multinational corporations to avoid paying their taxes by playing accounting games to pretend their domestic profits are earned in foreign tax havens.
Camp claims several features of his plan would keep multinational corporations from avoiding their taxes. However, as Citizens for Tax Justice (CTJ) explains, "[I]t is impossible to believe they would work since his overall proposal would dramatically increase rewards for any American corporation that can make its U.S. profits appear to be earned in offshore tax havens."
Unfortunately, the Republican outsourcing plan has not gotten all the bad press it deserves. Why not? Partly because it has been competing for attention with all the other problems with the House Republican "tax reform" proposal. For example, the proposal would increase the deficit over the long term.
In February 2014, the AFL-CIO took a strong position against a "territorial tax system," arguing that it would increase the tax incentive for shifting jobs and profits overseas. Instead, the AFL-CIO called for the elimination of all—not just some—of the existing tax incentives for outsourcing. What does this mean in practical terms? It means taxing offshore profits no differently than domestic profits—that is, taxing both kinds of profits at the same rate and at the same time. Legislation that eliminates all tax incentives for outsourcing would generate $583 billion over 10 years, and this is the benchmark by which any international tax reform proposal should be measured.
Although prospects for the House Republican "tax reform" proposal are uncertain, the idea of a "territorial tax system" has wide support among Republicans in Congress, was recently endorsed by Sen. Marco Rubio (R-Fla.) and has attracted interest from some Democrats as well. It would be very dangerous to allow this terrible idea to pick up steam.