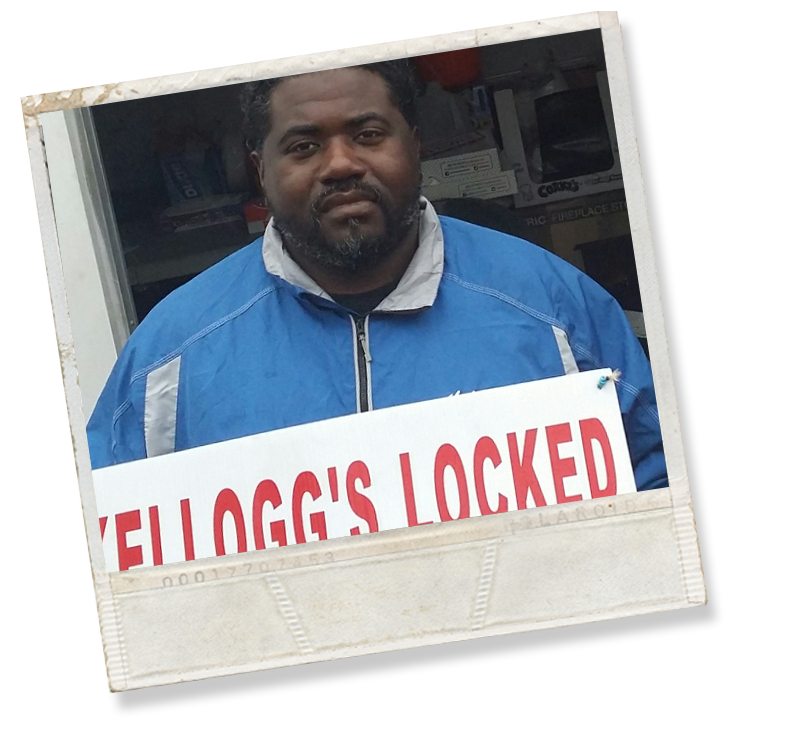 For 13 years Kevin worked at the Kellogg Co.'s Memphis, Tenn., cereal plant, until the company locked out him and 225 of his co-workers in October. While they missed the rest of the year's paychecks—and continue to do so—Kellogg CEO John Bryant pocketed nearly $8 million in 2013 compensation, reports the AFL-CIO's 2014 Executive PayWatch.
But apparently that's not enough, because the lockout is part of a Kellogg's scheme to replace steady, middle-class, full-time jobs held by the members of Bakery, Confectionery, Tobacco Workers and Grain Millers (BCTGM) Local 252G with newly hired employees who would make significantly lower wages and receive substandard benefits.
While Bryant and Kellogg attack worker pay as excessive, Kevin tells PayWatch:
Kellogg says its labor cost puts it in an unsustainable position in the cereal market…Yet, somehow, last year the company found a way to give its CEO a 21% raise, putting his total compensation for 2013 at $8 million.
You can read Kevin's full story here. He is one of several workers at companies headed by CEOs who are highlighted in PayWatch because they are rewarded with millions while their workers struggle with low wages.
Overall the average U.S. CEO made 331 times the amount the average worker earned, according to PayWatch. The gap between CEOs and minimum wage workers is more than twice as wide—774 times.
AFL-CIO President Richard Trumka said that PayWatch:
Calls attention to the insane level of compensation for CEOs, while the workers who create those corporate profits struggle for enough money to take care of the basics.
Visit PayWatch, the most comprehensive searchable online database tracking the excessive pay of CEOs of the nation's largest companies. The website offers visitors the ability to compare their own pay to the pay of top executives, highlights the 100 top-paid CEOs, and breaks out CEO pay data by state and by industry.
PayWatch also gives you a chance to help the nation's lowest-paid workers by signing a petition urging Congress to pass the Fair Minimum Wage Act of 2013.