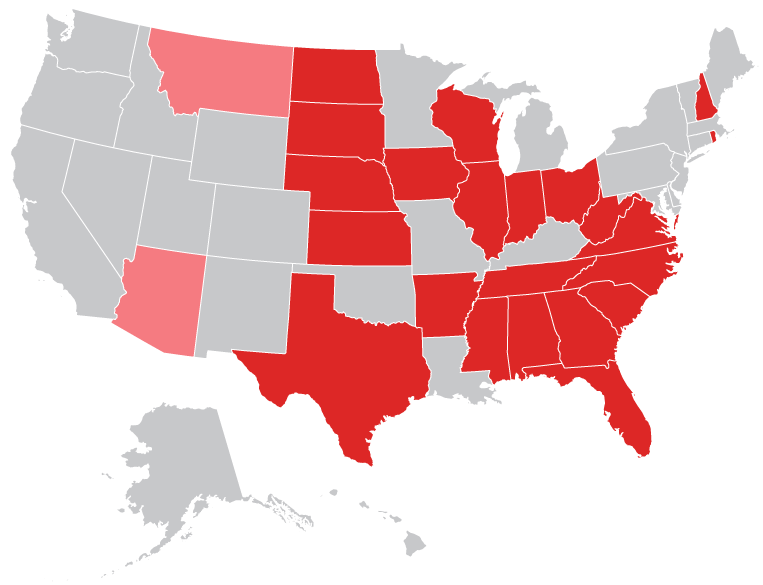 Since Republicans gained control of many state legislatures in the 2010 elections, 22 states(see map above)—nearly all of them in the South and the Midwest—have rolled out new restrictions on the right to vote. Voters in many of those states were protected by a key section of the Voting Rights Act that covered parts of 16 states with long histories of voter discrimination until the U.S. Supreme Court overturned it in 5–4 ruling last year.
The new laws range from photo ID requirements to early voting cutbacks to voter registration restrictions and are squarely aimed at reducing voter turnout and, according to a new study by the Brennan School for Justice at New York University, many of those new voting restrictions "were previously blocked by the Voting Rights Act."
The State of Voting in 2014 finds:
Of the 11 states with the highest African American turnout rate in 2008, seven have new restrictions in place;
Of the dozen states with the largest growth in Hispanic population from 2000 to 2010, nine passed laws making it harder to vote;
Nearly two-thirds of states—or nine out of 15—previously covered in whole or in part by Section 5 of the Voting Rights Act because of a history of race discrimination in voting have new restrictions since the 2010 election.
The Brennan study points out that "Partisanship played a key role. Of the 22 states with new restrictions, 18 passed entirely through GOP-controlled bodies, and Mississippi's photo ID law passed by a voter referendum." It also cites a recent study from the University of Massachusetts Boston, that found restrictions were more likely to pass "as the proportion of Republicans in the legislature increased or when a Republican governor was elected."
In related voting rights news, the Senate Judiciary Committee will hold a hearing June 25 on the anniversary of the Supreme Court ruling on ways to strengthen the Voting Rights Act. Committee Chairman Sen. Patrick Leahy (D-Conn.) said:
One year ago, five justices on the Supreme Court issued a disastrous Shelby County decision that removed crucial voter protections. It is time for Congress to act. Just as Congress came together 50 years ago to enact the Civil Rights Act, Democrats and Republicans should work together now to renew and strengthen the Voting Rights Act, which has always been bipartisan. This year should be no different, and I hope all Republicans will work with us to enact the meaningful protections in the Voting Rights Amendment Act.