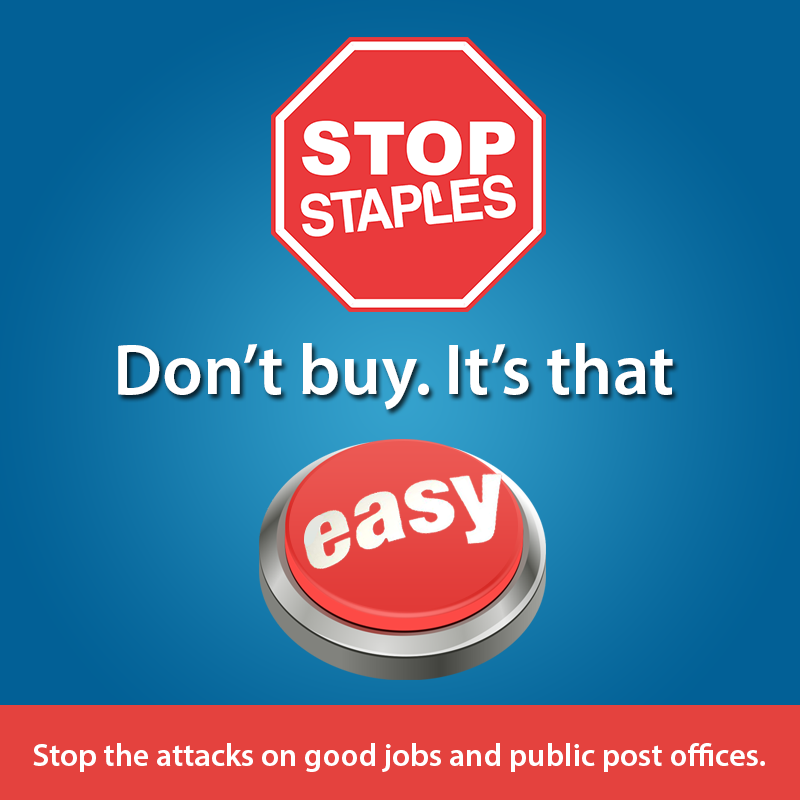 More and more unions, community groups and other organizations are lining up with the Postal Workers (APWU) and backing the union's boycott of Staples. You can join in, too. As the APWU says, "It's that easy," just don't buy your office supplies at Staples.
In May the AFL-CIO endorsed APWU's boycott of the office-supply giant in response to the U.S. Postal Service's plan to privatize retail operations by contracting mail services to Staples, using "postal counters" staffed with low-wage, high-turnover Staples employees rather than postal employees.
The USPS began contracting out postal services to Staples in October. So far, 80 Staples stores are part of the pilot program. But the USPS plans to expand the scheme to 1,500 Staples locations nationwide at the same time the USPS is eliminating public post offices.
The union says that the no-bid sweetheart deal will compromise the quality, security and reliability that consumers expect and deserve in the handling of their mail. APWU President Mark Dimondstein says that an internal USPS document "makes clear that the goal of the program is to replace the good, living-wage jobs held by USPS employees with low-wage jobs in the private sector."